Charlie Flynn: Glasgow 2014 hero relishing his professional bow
By Jane Lewis
BBC Scotland
Last updated on .From the section Boxing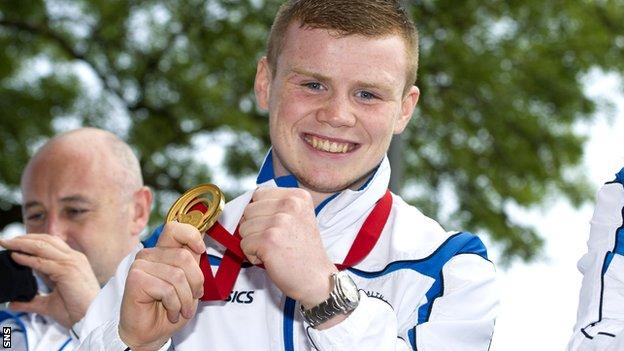 Commonwealth Games gold medallist Charlie Flynn is confident he will make a winning start to his professional career against Ibar Ryaz on Sunday.
"I've watched him and he's a bit of a brawler, he keeps coming and coming but I know what to do," Flynn told BBC Scotland.
"I know how to beat him and I know I'll do the damage on the night."
And the 21-year-old added: "All the hard work's been done in the gym, I'm just tapering off now, sharpening up and getting ready for the fight."
Sunday's bout at the Thistle Hotel is a four-round contest, but Flynn is already dreaming of winning titles for the Scottish public, who took the fighter to their hearts during the Commonwealth Games.
"I'll be fighting on some undercards so it will be big venues and it's going to be good," added Flynn, who is coached by Peter Harrison and managed by Alex Morrison.

"I've had a taste of what the Scottish public can be like when they come out and are supporting you, giving 100%, and you just want more of it. It's time to go and get the titles and bring them back to Scotland."
And he is delighted to be getting his career in the professional ranks under-way.
"I can't wait for it. I've been in with pros since I was young and I have a bit of a pro style," Flynn added. "I've got great Scottish support and all my family and friends behind me.
"It's time to go, I'm dying to get in the ring and start my pro career. I'll start small and think big."