Anthony Crolla: Joe Gallagher unsure if boxer will fight again
Last updated on .From the section Boxing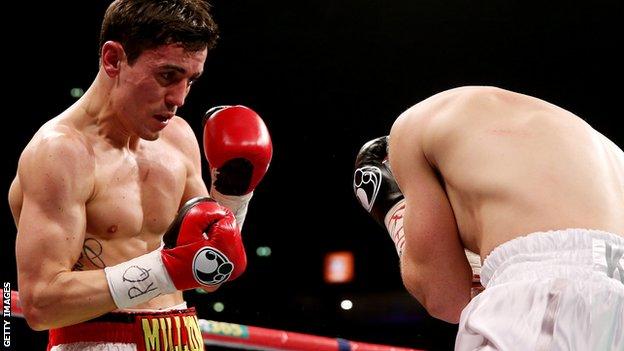 Anthony Crolla's trainer says it "remains to be seen" if the world title contender will fight again.
Trainer Joe Gallagher said Crolla is in Royal Oldham Hospital with a plate and pin in his ankle and 12 stitches in a head wound.
Crolla was hit over the head with a concrete slab and Greater Manchester Police are investigating the incident.
"Boxing is his life, but it plays second fiddle at the moment," said Gallagher.
Crolla was due to fight champion Richar Abril, 32, from Cuba for the WBA world lightweight title bout in January but that has been cancelled.
"We were so grateful for the world title opportunity, but that's gone," added Gallagher.
"Whether they can reschedule it, whether he'll get the opportunity again and whether he can even ever fight again remains to be seen, but first we have to concentrate on getting Anthony back to full health."
Officers and Crolla's neighbour Chris Townsend have praised the "valiant" boxer.
Crolla, who has won 29 of 35 professional fights, was set for the biggest bout of his eight-year professional career in Manchester on 23 January.
Amir Khan, speaking to BBC Sport from his gym in Bolton where Crolla trains, said: "I've known Anthony for a long, long time. We were in the amateur days together, we trained and roomed together.
"As a professional, being the position he is, to fight for a world title would have been a dream come true for him."
Fellow Greater Manchester boxer Tyson Fury said: "It's a big shame. It just shows how it can be given to you and taken away so simply."