Carl Froch says never fighting again is a "nice" thought
Last updated on .From the section Boxing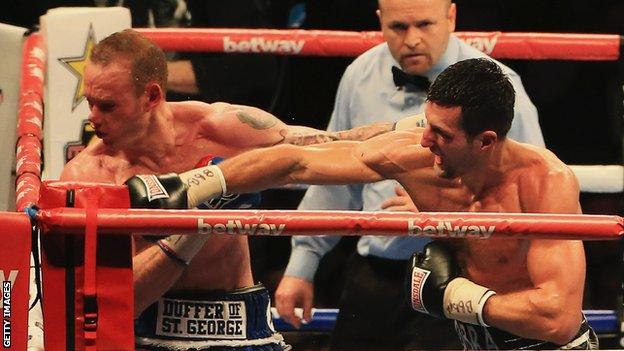 Carl Froch has said the thought of never fighting again is a "nice" one, a day after pulling out of the fight with Julio Cesar Chavez Jr.
Froch, 37, now says he is again "wavering" as to whether he will fight on.
"It's no secret that I'm nearing the end of my career and I may or may not fight again," he told BBC Radio 5 live.
He posted a photo, of his gloves hanging up, on social media on Sunday.
"I was actually thinking to myself, you know, what if they stayed hung up and I never boxed again? It's quite a nice thought if I'm totally honest," he said.
"I'd be lying if I said it wasn't wavering. I've got two wonderful children, very young, and being at home spending time with them - I think it was one of the Rocky films when Micky said to Rocky, 'you become human, you become civilised' and I can almost relate to that and think 'Am I still this fighting machine?'
"But I'm sure once I get back in the gym and start really pounding the bag and the roads hard in the morning I'll be back to my old fighting self."