Jermain Taylor: Boxing champion arrested on gun charges
Last updated on .From the section Boxing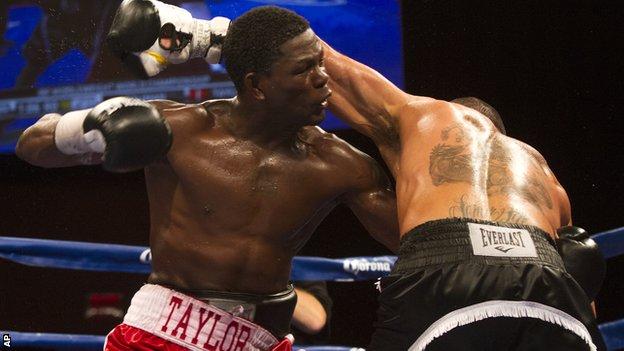 A judge has ordered IBF middleweight champion Jermain Taylor to have a mental assessment after being arrested for two gun-related incidents.
Taylor was arrested last week after Arkansas police said he opened fire and threatened to shoot a family during a Martin Luther King Jr Day parade.
The 36-year-old was on bail after pleading not guilty to charges relating to an August shooting of his cousin.
Taylor's defence attorney said the boxer's actions were out of character.
The American, who once fought British four-time world champion Carl Froch, was in court on Tuesday.
Prosecutors asked for Taylor's bail to be revoked, however he was sent for an immediate physical and mental evaluation at hospital.
He faces charges of first-degree battery and first-degree terroristic threatening over the first shooting, which happened at the boxer's home.
He was later further charged with aggravated assault and endangering the welfare of a minor for the parade incident in Little Rock, Arkansas.
Taylor had posted a video on social media, when he attempted to explain his actions at the 19 January parade from his bath tub while under a 24-hour deadline to hand himself into police.
Shannon Millar - KARK and Fox 16 reporter
"There has been no official word on why he has been acting this way. There has been a lot of speculation considering the injuries he has sustained with his career. Boxing is not one of the easiest sports to bounce back from when you are talking about that sort of head injury and head trauma."
Taylor is due back in court on 10 February, and results from the mental evaluation will be presented to the court on 27 April.
The Arkansas native was scheduled to defend his IBF title against Sergio Mora on 6 February but has pulled out of the fight.