Mayweather v Pacquiao: Boxing's last bona fide super-fight?
Last updated on .From the section Boxing144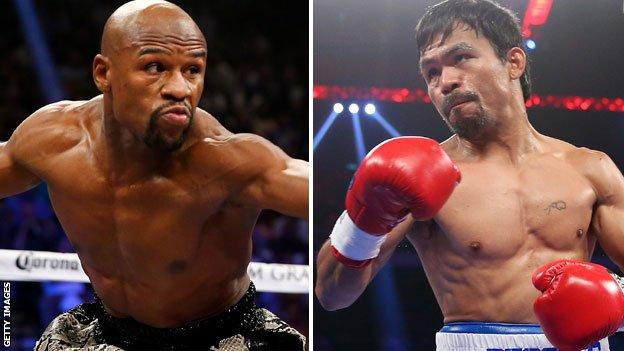 And to think, the first fight between Sugar Ray Leonard and Tommy Hearns was made in 30 minutes. In a coffee shop. At an airport. Manny Steward, Hearns' trainer and manager, flew back to Detroit on the same plane he flew in on.
They called that fight in 1981 'The Showdown', which sounds quaint by today's standards. They should call the meeting between Floyd Mayweather and Manny Pacquiao 'When Conglomerates Collide'. As a tagline, it would encapsulate perfectly the modern business of boxing.
It would also go some way towards explaining why Mayweather-Pacquiao, which was finally announced by the former on Friday after years of tortuous negotiations, could one day be known as boxing's last bona fide 'super-fight'.
There was a time when the best fights made the most money, made the most sense. But things got complicated. The elite modern boxer is a commodity, tied up by a Gordian knot of contractual agreements with warring promoters, myriad governing bodies, rival television networks and rapacious sponsors.
And while the various stakeholders fight over the carving knife, boxing fans are made to wait like salivating dogs, looking longingly up at the boardroom table.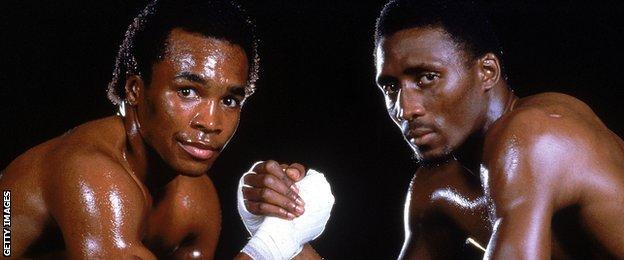 That the public waited so patiently for the Mayweather-Pacquiao fight to be announced reflects badly on the state of the sport. Five years ago, those salivating dogs would have been rewarded with prime steak. Today, that steak is not as prime as it was (Mayweather is 37, Pacquiao 36). But in times of rationing, any steak is better than nothing.
The current heavyweight division is a joke. And not a good one. Not since Lennox Lewis beat Vitali Klitschko in 2003 has there been a heavyweight contest that transcended boxing.
There are plenty of fine fighters in lower weight divisions but, Mayweather and Pacquiao aside, no global superstars. Terence Crawford, the WBO lightweight champion, is being touted as the next big thing in the United States. I'm willing to bet that not many of you have heard of him.
Those 'four kings' of the 1980s - Leonard, Hearns, Marvin Hagler and Roberto Duran - became superstars by fighting on terrestrial television. And often. All four became household names across the globe, with seven of the nine fights between them featuring on the cover of Sports Illustrated.
In the US, as in the UK, boxing disappeared from most people's living rooms in the mid-1990s, having been spirited away to satellite television. As a result, boxing's television viewership was decimated.
Head to head

Floyd Mayweather

Manny Pacquiao

Money

Nickname

Pac Man

Las Vegas, USA

Home town

General Santos City, Philippines

24 February 1977 (37)

Date of birth

17 December 1978 (36)

Orthodox

Stance

Southpaw

5ft 8in

Height

5ft 6in

47 fights, 47 wins (26 KOs)

Pro record

64 fights, 57 wins (38 KOs), 5 losses, 2 draws

WBC & WBA welterweight, WBC light-middleweight

Current titles

WBO welterweight
And because boxing was no longer being shown free to air, print outlets were less inclined to cover it because, the argument went, not enough people knew who, or what, they were writing about. Since 2000, boxing has featured on the cover of Sports Illustrated once, when Mayweather fought Oscar de la Hoya in 2007. The rulers of cricket and golf should have been paying attention.
Even those who remained faithful to boxing struggle to make any sense of it. If it wasn't baffling enough that there were four 'recognised' world champions in each weight class, some governing bodies now have more than one world champion in some weight classes.
With so many fighters - as well as their promoters and the television networks they fight on - able to claim they are a division's premier champion and making decent money on the back of what is often a deception, it is no wonder so many of the best fights which seem to make the most sense never get made.
All of which explains the hunger for Mayweather-Pacquiao. It is a fight that transcends boxing because it is a fight that transcends belts and weights. Mayweather and Pacquiao are that rare thing today, two boxers so luminously talented that the general sports fan can make them out through the murk.
The all-action Pacquiao has won world titles in six weight divisions, Mayweather five; Pacquiao has been beaten only five times since turning pro as a 16-year-old in 1995, while Mayweather's unbeaten record stretches back to 1996. Between them they have victories over a host of future Hall of Famers, including De la Hoya, Marco Antonio Barrera, Juan Manuel Marquez, Erik Morales, Shane Mosley and Miguel Cotto.
Indeed, not too long ago Mayweather-Pacquiao would have been just another super-fight. Had they been fighting in the 1990s, when the likes of Julio Cesar Chavez, Felix Trinidad and Pernell Whitaker were operating in and around the 147lb division, they would have been just two more additions to a bubbling brew, not necessarily the main ingredients.
Lest we forget, Mayweather is a fighter many boxing fans find objectionable beyond the ropes and boring between them. Leonard or Hearns, who combined artistry with blood and thunder, he isn't.
Mayweather has become the phenomenon he is because of his uncanny mastery of boxing, but also because of a lack of alternatives. This lack of alternatives is the reason why Showtime poached him from rival American network HBO, the six-fight deal costing a reported £127m.
It is a measure of his innate talent that Mayweather is still the cream of the crop and unbeaten in 47 fights. But recent outings suggest he is not as creamy as he was. Pacquiao, meanwhile, is a veteran of 64 fights. Two defeats in 2012, including a devastating knockout by Mexican great Marquez, dulled his lustre, although he has won his three fights since.
Six years of filibustering has not only made the fight less meaningful but also rendered the public weary. Consider this: since negotiations for the fight began in 2009, Novak Djokovic and Rafael Nadal have met 28 times. Tennis booms, because rivalries are the lifeblood of any sport.
Three great modern fights that never happened
Lennox Lewis v Riddick Bowe -
Lewis, fighting for Canada, beat American Bowe to gold at the 1988 Olympics. After Bowe became undisputed heavyweight champion in 1993, he gave up his WBC belt - literally throwing it in a bin - rather than fight the now-British Lewis.
Sugar Ray Leonard v Aaron Pryor -
The all-action Pryor, king of the light-welterweight division in the early 1980s, signed to fight Leonard in 1982. However, Leonard suffered a detached retina and drifted into retirement. Pryor described pulling his car over and crying when he heard the news.
Roberto Duran v Alexis Arguello -
Nicaragua's Arguello reigned supreme in the super-featherweight division in the late 1970s and came close to sealing a fight against lightweight great Duran in 1978, only for the Panamanian to move up to welterweight and challenge Leonard instead.
The public does not care who produces the fight, who presents it, who got the rights to the delayed broadcast, who will stand on the scales first at the weigh-in, who got first choice of locker rooms, which gloves they will use, who will enter the ring first, who will be the official beer sponsor, who will get the lion's share of the pay-per-view receipts in Vanuatu. They just want to see Mayweather and Pacquiao rumble.
And a real risk for the sport of boxing is that a salivating public, having been so patient, will react with scorn if the fight is a dud - "that wasn't a steak, that was a mistake". This is a real possibility, because Mayweather, a defensive master, is all about winning and has never been overly concerned with taking unnecessary risks.
But this fight is the biggest boxing can offer by some distance, which is why it will smash pay-per-view records and raise a purse of $250m (£162m). They won't so much need cut men as tax men in their corners.
For one gloriously mad week in spring, boxing will be the biggest sport on earth, just as it often was in the days of Leonard and Hearns. Las Vegas, festooned with giant portraits of the two rivals all along its Strip, will bow to their cults of personality. Fans will flock from far and wide, rollers will be high, celebrities will be A-list, journalists will be varied and many.
When it comes to boxing as an event, you might not see its like again. Because super-fights require superstars, and these two little men are the only bona fide superstars left in boxing.