Carl Froch: Bernard Hopkins fight would be a 'lose-lose situation'
Last updated on .From the section Boxing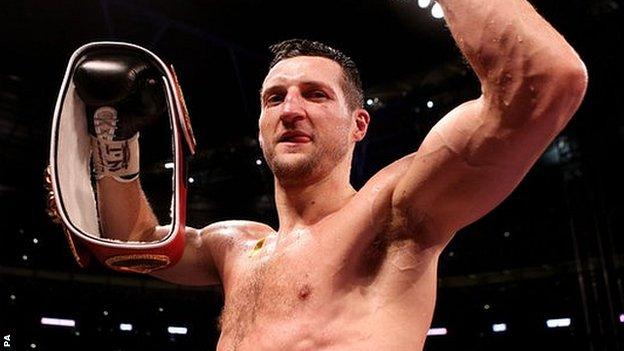 Carl Froch says a world title fight against 50-year-old, two-weight world champion Bernard Hopkins would be a "lose-lose situation".
And the WBA super-middleweight champion said the chance to defend his title against Hopkins did not excite him.
"Because he is 50 and a legend I don't want want to fight him because it is almost a lose-lose situation," Froch told BBC East Midlands Today.
"I am expected to beat him. If I win people will say 'he beat a 50-year-old man'.
"If I lose people would say 'what's going on? You've ruined your legacy. You finished your career on a loss against an old man' - so that would be traumatic.
"I don't think for one minute I would lose against Hopkins. It would be a great fight and a fight I would win in style."
Talks have taken place over a potential bout against Hopkins in Froch's home city of Nottingham, or Mexico's Julio Cesar Chavez Junior in Las Vegas.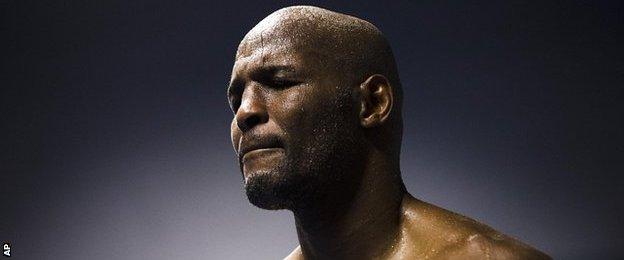 Froch said he was not "disrespecting" Hopkins, a fighter he described as "a living legend".
"He talked about wanting to fight me a couple of years ago and now he is making noises again," said Froch.
"It is unbelievable what he is doing. Through to his late 40s he was winning world titles.
"He is coming off the back of a loss, but he is still a fighting force to be reckoned with and a dangerous opponent.
"But it is not particularly a fight I get too excited about."
Four-time world champion Froch injured his elbow and had to pull out of a fight with Chavez, which was originally scheduled for March.
Fellow Briton James DeGale, 29, who was the mandatory challenger, will now fight for the title Froch vacated.