Lee Purdy retires after losing vision in left eye
Last updated on .From the section Boxing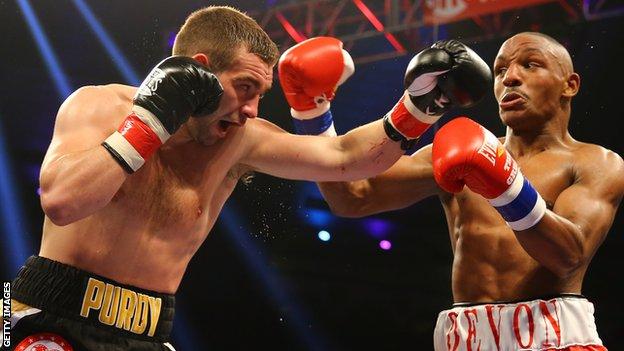 Former British welterweight champion Lee Purdy has retired after losing vision in his left eye.
The 27-year-old Colchester fighter was injured in a defeat by Leonard Bundu in December 2013, and, after a series of operations, has decided to quit boxing.
"I had a detached and torn retina, so my vision is hugely affected," he told BBC Essex.
"I am devastated but generally happy with what I have done in boxing. I don't regret anything."
"I won titles and defending the British title was the happiest time of my career."
Purdy's most high-profile fight was as a replacement for Kell Brook against Devon Alexander almost two years ago.
He lasted seven rounds against the IBF world champion before being pulled out by his corner.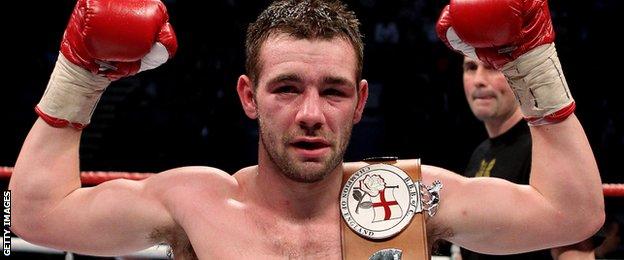 Purdy, who says it could take up to 18 months before he discovers how his long-term vision has been affected, won the British welterweight title in 2011 and later went on to hold the IBF international belt at the same weight.
"Because I had a tear on my retina, the scar pulls at the retina and it was either pulling a new tear or it was pulling the retina off," he said.
"Fluid was coming through the wound and I've had five operations on it so far. Currently I can only see light and dark shadows but that's because I have ointment in the eye.
"It's unclear how much vision, if any, I will have when they take the ointment out."
Purdy said moving into coaching was now a possibility.
"I'd love to be part of boxing still," he added. "I've been part of boxing for so long so I'd like to pass on my knowledge. I'd like to train other fighters, but I haven't thought much about it yet."
He retires with a record of 20 wins, five losses and one draw from his 26 professional fights.