Floyd Mayweather v Manny Pacquiao: Reaction to mega bout
Last updated on .From the section Boxing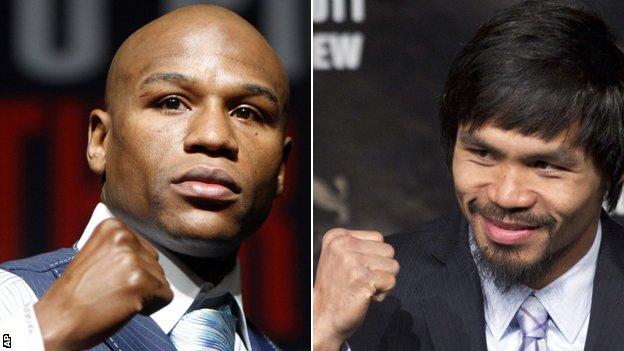 "It's On" - a common reaction as news broke that the long-awaited showdown between Floyd Mayweather and Manny Pacquiao will go ahead.
The boxers are set to finally clash at the MGM Grand Hotel in Las Vegas on Saturday 2 May.
Mayweather is unbeaten in 47 professional fights; Pacquiao has 57 wins and five losses from 64 contests.
Here, we look at reaction to the news, the tale of the tape, odds, what promoters and journalists are saying, and throw a few names into the ring about how the bout might be billed...
What are the boxers saying?
Mayweather (American, 37): "What the world has been waiting for has arrived. Mayweather vs Pacquiao on May 2, 2015 is a done deal.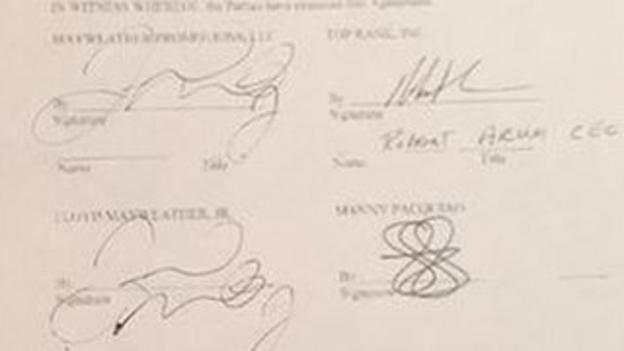 "This will be the biggest event in the history of the sport. Boxing fans and sports fans around the world will witness greatness on May 2."
Pacquiao (Filipino, 36): "I am very happy that Floyd Mayweather and I can give the fans the fight they have wanted for so many years.
"I dedicate this fight to all the fans who willed this fight to happen and, as always, to bring glory to the Philippines."
Reaction from elsewhere
"Can't wait to see @FloydMayweather and @MannyPacquiao fight on May 2! #MayweatherPacquiao" - tweeted former boxing champion Sugar Ray Leonard, who won titles in five weight divisions.
"Mayweather v Pacquiao is on!!!! Fight everyone wants to see! May 2nd! I can't wait!!" - undefeated Welsh fighter Joe Calzaghe.
"Mayweather announces he's fighting Manny Pacquiao. Good luck guys. A fight we all been waiting for" - Britain's two-time world champion Amir Khan.
Head to head

Floyd Mayweather

Manny Pacquiao

Money

Nickname

Pac Man

Las Vegas, USA

Home town

General Santos City, Philippines

24 February 1977 (37)

Date of birth

17 December 1978 (36)

Orthodox

Stance

Southpaw

5ft 8in

Height

5ft 6in

47 fights, 47 wins (26 KOs)

Pro record

64 fights, 57 wins (38 KOs), 5 losses, 2 draws

WBC & WBA welterweight, WBC light-middleweight

Current titles

WBO welterweight
How much is it worth?
The showdown on the Strip is likely to be one of the richest, if not the richest, fights of all-time.
"It's not wandering into the realms of fantasy to suggest they might come away with $100m (£65m) apiece," said BBC boxing commentator Mike Costello
"The details haven't been released at this stage as to what they are guaranteed. The final earnings won't be known until after the fight and the pay-per-view sales.
"This is a fight between the two best boxers of the current era. It's actually quite rare in boxing that the two best fighters in any era happen to be in the same weight division.
"It is even more rare that they meet together in the same ring. This is a monster fight."
'They will need tax men in their corners'
"This fight is the biggest boxing can offer by some distance. Las Vegas, festooned with giant portraits of the two rivals all along its Strip, will bow to their cults of personality. Fans will flock from far and wide, rollers will be high, celebrities will be A-list, journalists will be varied and many."
Read more from
BBC Sport's Ben Dirs
The promoters' view
Pacquiao's promoter Bob Arum, of Top Rank Promotions, said his fighter would start training on 9 March.
"This fight took five or six years of negotiating, arguing, and egos getting in the way before it finally came to fruition.
"I equate this to five or six years of Super Bowls all wrapped into one fight. It will be the biggest boxing event of all-time. Boxing needs this fight."
Kellie Maloney formerly managed Britain's world heavyweight champion Lennox Lewis, and was part of the team that negotiated his fight against Evander Holyfield.
"Once it's made, the PR machine goes into overdrive. It's like the circus coming to every town in America," Maloney told BBC Radio 5 live.
"I think they will do a world tour. It wouldn't surprise me if they come to England and do a press conference because England has a massive pay-per-view market they will want to catch.
"Manny Pacquiao is a very proud person. He said this fight is not just about boxing, it's about my country, the Philippines. He is going in there with a lot of pride and honour
"Floyd Mayweather is the flashiest, most arrogant fighter I've ever come across. He's just great for the business - love him or hate him."
What's in a name?
This could be one bout that sells itself, but already speculation has started on how to brand it.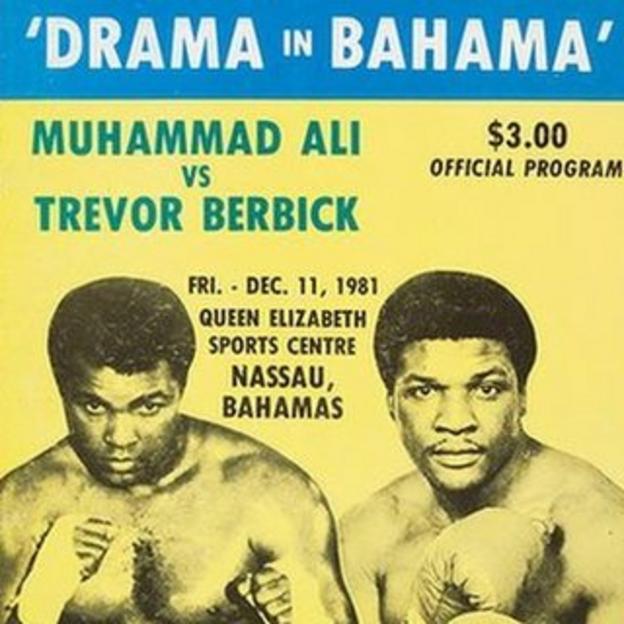 Boxing has a rich history of bigging up its biggest bouts - who could forget Muhammad Ali's Thriller in Manila and Rumble in the Jungle?
Perhaps less well known is Ali's 1981 fight in the Caribbean, billed as the Drama in Bahama, where he lost on points to Trevor Berbick.
We asked followers of the BBC Sport account on Twitter to come up with their own ideas. Here are some of the best:
"May Day is Pay Day" - Jamal.
"Outrageous in Vegas" - Jake Hayward.
"Money Man vs Pac Man" - Chris Brophy.
"The Wait is Over..."Ajinwood
Although not everyone is convinced...
"The Ultimate Pension Plan"- pop band Honours.
"The 5 Year Engagement"- Dip.
Can I watch the fight?
Yes, but be prepared to pay and be ready for a late night if you're in Europe, where the time difference means the fight might not start until the early hours of Sunday, 3 May.
Pacquiao is contracted to HBO and Mayweather to Showtime, which was one reason for the protracted negotiations, but the rival firms are collaborating on a pay-per-view telecast.
"This is the biggest boxing event of all time, we're confident of that," said Ken Hershman, president of HBO Sports. "We couldn't be prouder to be a part of it and help craft it."
Mayweather-Pacquiao is expected to break the record for pay-per-view buys in the United States. The current record of 2.4 million was set when Mayweather fought fellow American Oscar de la Hoya in 2007.
What are the odds?
The fight is expected to draw record betting, with tens of millions wagered in Nevada's legal sports books.
"Outside of the Super Bowl, this could be the single biggest wagering event we've ever had," said Jay Kornegay, Westgate Las Vegas sports book director.
Mayweather is the strong odds-on favourite to win, according to British bookmakers.
Approximate odds: 1-3 Mayweather. 5-2 Pacquiao. 20-1 Draw.