World Series of Boxing: Anthony Fowler wins British Lionhearts lose
Last updated on .From the section Boxing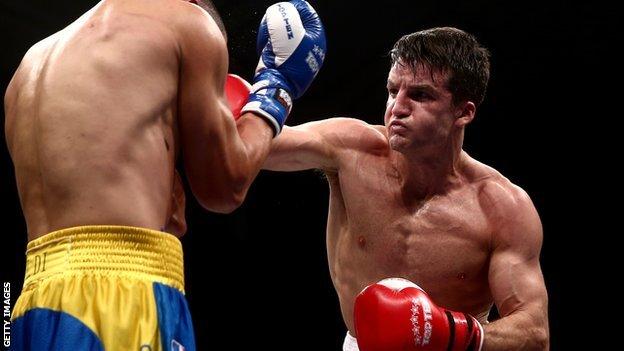 Commonwealth Games gold medallist Anthony Fowler beat Misael Rodriguez to keep his Rio Olympic qualification bid on track.
However the Great Britain boxing team British Lionhearts suffered a third successive defeat in week seven of the World Series of Boxing (WSB).
They lost 3-2 to Mexico Guerreros at York Hall in London after defeats by Cuba Domadores and Russian Boxing Team.
Qais Ashfaq also won for GB, beating Brian Gonzalez at bantamweight.
Fowler won in the middleweight category and now has three wins out of three.
The British boxers are using the series individually to qualify for next year's Olympics as the top two fighters in the WSB rankings automatically gain a spot.
Fowler, who is currently joint third in his weight category, said: "I lost a little bit of ground in the rankings because I had to miss the Russia match [two weeks ago] through injury but I am still on track with that win.
"I am unbeaten for the season and I really don't think there is anyone out there better than me, so I just need to keep on winning and hopefully I will qualify for Rio through WSB."
The result means the Lionhearts as a team slip to sixth out of eight teams in Group A, headed by the Cubans.
Their next match is against China Dragons in Sanya on Friday, 6 March.