Leon McKenzie: Former footballer on verge of first boxing title
By Eleanor Thomason
BBC Sport
Last updated on .From the section Boxing
At 36, Leon McKenzie has almost seen it all. Euphoric highs and harrowing lows helped shape his 18 years as a footballer. Now he is on the brink of his first professional boxing title.
The former Crystal Palace and Norwich City striker scored over 100 goals in English football and, after short spells in the lower leagues with Kettering and Corby Town, opted to hang up his boots in 2011.
At an age when most have retired from professional sport, McKenzie followed the lead of former Sheffield United midfielder Curtis Woodhouse and opted to step away from the pitch and into the boxing ring.
Undefeated after six pro fights at super-middleweight, McKenzie meets Croatia's Ivan Stupalo on Saturday for the vacant International Masters title over 10 three-minute rounds.
McKenzie, a father of five who recently became a grandfather, has his first title shot at East London's York Hall, the same venue where his father and coach Clinton, a former British and European champion, made his pro debut 39 years ago.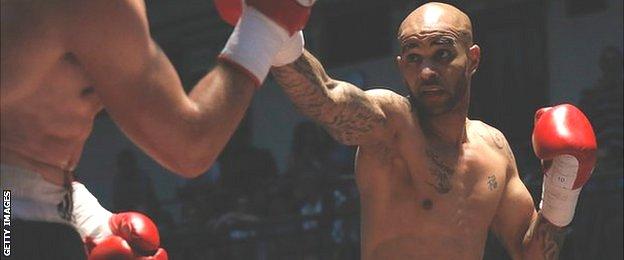 Leon's uncle Duke was a world champion at three different weights, so boxing has always been in McKenzie's blood.
"My dad and I have a fantastic relationship - a really strong bond. The mutual respect is there but he works me hard and pushes me to my limits," said McKenzie.
"Physically I feel very good. If we can pull off our first title shot, then it is a massive achievement."
McKenzie continues to contend with mental health issues, which he believes were aggravated by being a professional footballer. He suffered from depression throughout his career, and tried to take his own life five years ago.
"There were so many issues towards the back end of my career," he said. "I suffered from a lot of injuries and was missing my home life. I isolated myself just because I was battling with my demons. It can be a very lonely place."
He still experiences similar emotions. "After the fights, I feel lonely," said McKenzie. "But when I'm in the ring I'm there and there is a job that needs doing. I have a big heart and I will die trying either way."
McKenzie rushed to Leeds General Infirmary in December when Clarke Carlisle, his good friend who has also suffered from depression, was seriously injured after being involved in a collision with a lorry.
Though he still believes football places a stigma on depression, McKenzie is studying counselling and wants to use his experiences to encourage and help others.
He said: "I don't want attention. I still speak, I still suffer and I do what I have to. It is a part of my life. It is important to speak and keep yourself active and put your mind into other things.
"When I'm qualified, I want to be able to do some work with the Professional Footballers' Association - the players' union - and do my own stuff as well. Maybe I can teach, do some boxing and fitness and make the Leon McKenzie Foundation."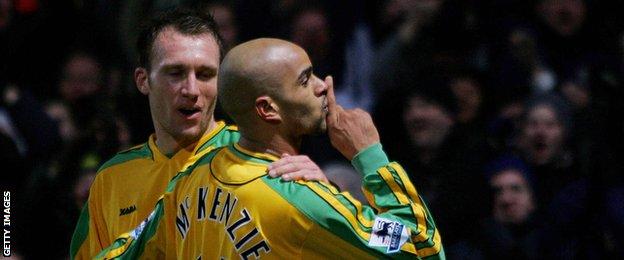 The highlights of McKenzie's football career including scoring for Norwich in a 2005 Premier League win over a Manchester United side who included Cristiano Ronaldo, Ruud van Nistelrooy and Wayne Rooney.
But the Londoner says his professional boxing debut felt better than any goal he scored.
"It's my second career, so I get more out of it because I never thought I would get the opportunity to do it.
"I was in the Premier League at 28 years of age and reached the level I could reach. That was the best Leon McKenzie you would see.
"Me and [fellow former Norwich striker] Dean Ashton were frightening together. We were a great partnership and it was a big deal. It really was.
"Scoring against Manchester United was the highlight of my career but I had many highlights. I made a habit of scoring on my debuts and I scored important goals. But this title would mean a lot more to me than any goal because no one ever expected me to do it."
Head to head

Leon McKenzie

Ivan Stupalo

Croydon, UK

Home town

Split, Croatia

17 May 1978 (36)

Date of birth

03 December 1990 (24)

Southpaw

Stance

Orthodox

5ft 8in

Height

5ft 9.5in
McKenzie's immediate focus is on Saturday, and he has studied his opponent well.
"Ivan has done a few 10-rounders," he said. "He is strong, stocky and durable. He has the experience and has had more fights than me, but he has never been up against anyone like me.
"We have trained extremely hard and put in all the work, so I will be going into the fight knowing I have done everything I can. For sure, it is the fight of my life."
The occasion doesn't faze him. On the surface, McKenzie is brimming with confidence, but admits he carries more nerves in the ring than he ever did in the dressing room.
He said: "I always get a bit nervous, but I use those nerves for the good. It is a completely different feeling compared to being a footballer. I know now that all the hard work has been done before.
"When I step into that ring and I feel the nerves, then I know it's time to fight and make it happen. With football, much of the hard work is yet to come.
"I'm 37 this year, so I haven't got much time. I think I have done well so far and if I don't win, I will definitely be back to try to win something. To achieve something would be great - and even if I don't, then I don't. At least I tried."