Paddy Barnes & Michael Conlan want early Rio qualification
Last updated on .From the section Boxing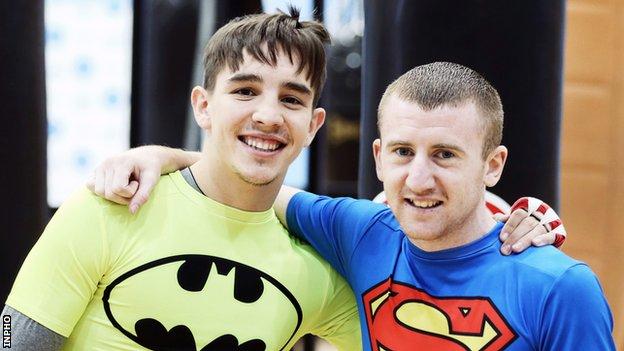 Belfast boxers Paddy Barnes and Michael Conlan say they are determined to qualify for the Olympics place well in advance of the 2016 Games in Rio.
Part of Conlan's reasoning is that he is due to become a father later this month and he wants to spend as much time as possible with the new arrival.
"I want to be able to enjoy the year with my new child," said Conlan.
Both the Olympic bronze medallists are attempting to book their Rio berths via the World Series of Boxing.
Barnes is currently leading the light-flyweight standings in the World Series after winning his opening four bouts but will need to remain on top to secure his Rio berth via that route.
"It would be a big weight off my shoulders to qualify for Rio as early as possible," twice Olympic bronze medallist Barnes told BBC Sport Northern Ireland.
"I'm on a roll with four fights unbeaten and three to go. If I win those three fights, I will be in Rio."
For his part, Conlan dropped to third in the World Series bantamweight standings after suffering a second controversial defeat in four bouts in Kazakhstan on Saturday.
Conlan, who along with Barnes on Wednesday attended the Olympic Council of Ireland's launch of their plans for the inaugural European Games in June, acknowledged that he was still feeling upset after losing the decision to Kairat Yeraliyev in Almaty.
"To have two decisions go against you in away countries when you definitely should have got the decision is sickening," added the bantamweight.
But with three fights left and two qualifying spots in Conlan's division, all is far from lost for the Belfast man who occupies third in the standings.
"I am still in a good position. I am only four points behind the guy in front of me so I can still catch him."
The Belfast duo were joined by Katie Taylor at the Olympic Council of Ireland gathering ahead of the country's participation at the inaugural European Games which will take place in Baku, Azerbaijan from 12-28 June.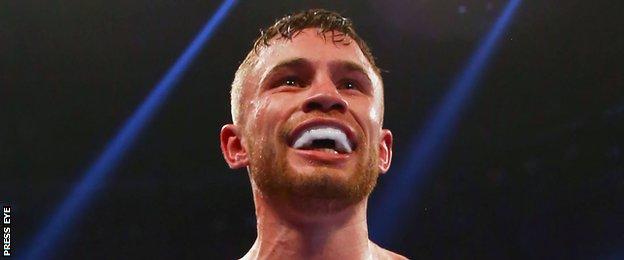 More than 62 Irish athletes across 11 sports are expected to compete in Baku with the boxers likely to lead Ireland's bid for medals.
The boxing competitions in the European Games will serve as qualifiers for the World Championships in Doha in October which in turn will have Olympics berths on offer.
"If I go to Baku, I will definitely get a gold medal and I think I will become world champion as well."
Barnes says he is looking forward to the chance to win another title in Azerbaijan.
"The European Games is going to a unique event because it's the first of its kind. It's going to be good to be part of the whole show."
Barnes and Conlan were both hugely impressed with the performance of their friend Carl Frampton as he successfully defended his IBF super-bantamweight title by stopping Chris Avalos in five rounds on Saturday night.
"He was outstanding. For me what won him the fight was his hand speed. He was far too fast for Chris Avalos and you could tell in the third round, Avalos wanted out of there."