Mayweather v Pacquiao will be most expensive pay-per-view fight
Last updated on .From the section Boxing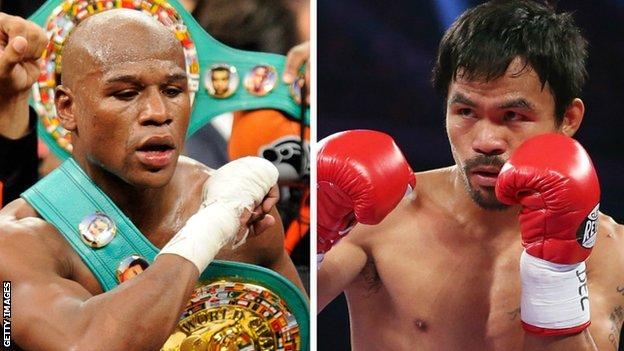 The fight between Floyd Mayweather and Manny Pacquiao will be the most expensive boxing match in UK pay-per-view history.
Sky Sports Box Office has been awarded the rights to show live coverage of the fight from the MGM Grand in Las Vegas on Saturday, 2 May.
The channel will charge customers up to £24.95 to watch the bout depending on how it is booked.
Customers were charged £14.95 to watch Ricky Hatton fight Mayweather in 2007.
That fight holds the UK pay-per-view audience record with 1.2m viewers.
Sky say the bout is the highest priced boxing fight they have ever put on.
In America, cable networks Showtime and HBO are preparing to charge a record $99.95 (£65) to show the fight on pay-per-view.
Costs of pay-per-view fights

Fight

Pay-per-view cost

Floyd Mayweather v Manny Pacquiao (2015)

Up to £24.95

Carl Froch v George Groves (2014)

Up to £21.95

David Haye v Wladimir Klitschko (2011)

Up to £19.95

Ricky Hatton v Floyd Mayweather (2007)

£14.95

David Haye v Nikolay Valuev (2009)

£14.63

Ricky Hatton v Manny Pacquiao (2009)

£14.63
The Mayweather-Pacquiao fight, staged after six years of negotiations, is expected to generate as much as £162m ($250m).
American Mayweather, 38, and Filipino Pacquiao, 36, are considered to be the best two fighters of their generation.
Mayweather's WBC and WBA welterweight titles and Pacquiao's WBO belt will be on the line at the MGM Grand in Las Vegas.
Mayweather is unbeaten in 47 professional fights; Pacquiao has 57 wins and five losses from 64 contests.
To date, the most lucrative fight is thought to have been Mayweather's bout against Saul Alvarez in 2013, which made an estimated £97m.
Mayweather-Pacquiao will almost certainly beat that record, as well as the mark for worldwide pay-per-view purchases, which is currently 2.5m for Mayweather-Oscar De la Hoya in 2007.
Head to head

Floyd Mayweather

Manny Pacquiao

Money

Nickname

Pac Man

Las Vegas, USA

Home town

General Santos City, Philippines

24 February 1977 (38)

Date of birth

17 December 1978 (36)

Orthodox

Stance

Southpaw

5ft 8in

Height

5ft 6in

47 fights, 47 wins (26 KOs)

Pro record

64 fights, 57 wins (38 KOs), 5 losses, 2 draws

WBC & WBA welterweight, WBC light-middleweight

Current titles

WBO welterweight