Scottish Boxing Championships: Broadhurst credits female coach

By Keir Murray
BBC Scotland at Ravenscraig
Last updated on .From the section Boxing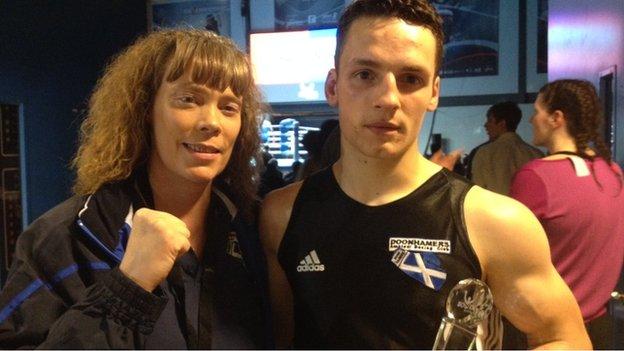 Dumfries boxer Dennis Broadhurst paid tribute to his coach Anne Armstrong after lifting the Scottish welterweight title at Boxing Scotland's National Elite finals at Ravenscraig on Saturday.
The apprentice roofer beat Dunfermline's Callum Susans over three three-minute rounds in a hard-fought encounter in which his opponent had a standing count in the second round.
For 19-year-old southpaw Broadhurst, who took up boxing six years ago, his victory was the product of many hours' hard work with his coach at the Doonhamers Boxing Club.
"I've put all the work in in the gym and lived the life of a monk," he told BBC Scotland.
"I work six days a week. Apart from that I'm in the gym all the time. This is my dream. You are only here once.
"It's been just me and my coach Anne, one-to-one training all the time, she has taken me trips for sparring.
"She has put in as much dedication as I have put in. It has been a team effort to get to this moment and it's just a phenomenal experience.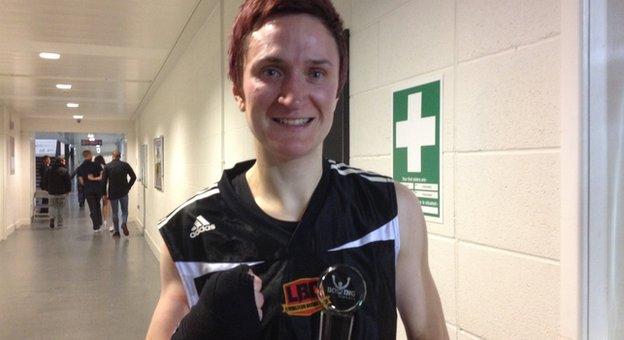 "It's special to be able to win that and to come back to the corner to the one person who has always stood by me."
Broadhurst lost his first six bouts as an amateur but has now registered 40 wins from his last 50 contests.
He lost to Lewis Benson at the semi-final stage last year as the boxers sought a place in the Commonwealth Games team, and that defeat spurred him on to work even harder to win the national title.
But the boxer preferred to highlight the contribution of his coach - Scotland's only female international coach - as the driving force behind his win.
"It's a shared victory. For a women in boxing to do that, to have just one coach in the corner, that's as big as me winning the title," he continued.
"There is no-one else here doing that and there will be no-one when the ABAs are fought in England that will have a woman as their head coach.
"Everyone is there when you win; it's the times when I've been beat, when I've locked myself in the toilets in tears when I've been beat at the high level, and my coach has always stuck by me.
"It's a massive victory for me, my coach, the club and the town and I'm just over the moon. With hard work and discipline, it can only go uphill from here."
Armstrong admits that it took a while for Broadhurst to grab her attention when he first appeared at her club.
"He was just a curly haired young lad with attitude who didn't show much potential," she said.
"But eight months into it a boxer in the club just noticed something about him and the rest is history."
"I love working in my club and developing the boys but I also love the international scene because I know that is going to progress me because I know that can only benefit the club at home.
"This boy is a talent; he is going all the way. Commonwealth level, Olympic level is the dream, the vision. Watch this space."
2015 Scottish Boxing Championships Elite winners

Women's 49kg

Emma McCulloch (Glenrothes)

Men's 49kg

Aqeel Ahmed (Keir Hardie)

Men's 52kg

Matthew McHale (Lochend)

Men's 56kg

Stephen Boyle (Dennistoun McNair)

Women's 57kg

Stephanie Kernachan (Newarthill)

Women's 60kg

Lynn Calder (Springhill)

Men's 60kg

Stephen Tiffney (Lochend)

Women's 64kg

Elaine Greenan (Livingston)

Men's 64kg

Lewis Benson (Lochend)

Women's 69kg

Gardner Moore (1314)

Men's 69kg

Dennis Broadhurst (Doonhamers)

Men's 75kg

Kieran Smith (Springhill)

Men's 81kg

Scott Forrest (Springhill)

Men's 91kg

Tommy Philbin (Lochend)

Men's 91+kg

John Winters (Kincorth)
Edinburgh's Lochend Amateur Boxing Club produced four Scottish champions. Matthew McHale, Stephen Tiffney, Benson and Tommy Philbin, all trained by Terry McCormack, won their bouts, with a fifth fighter from the club, Johanna Ryan, losing in the women's light flyweight final to Emma McCulloch of Glenrothes.
Springhill's Scott Forrest edged a decision at light-heavyweight against Commonwealth Games team-mate Stephen Lavelle, watched by Glasgow 2014 gold medal winners Josh Taylor and Charlie Flynn.
Aqeel Ahmed of the Keir Hardie club in Lanarkshire produced an assured performance to defeat Glasgow Phoenix's Ross Murray to win the 49kg title.
The 22-year-old said: "I fought him a couple of months ago and his game plan was spot on this time. He was a lot harder to hit.
"I start quite slow. I got comfortable as the fight went on and I felt I was getting the better of him. It's a foot in the door for the Scotland team so it was a very important win."
Livingston's light-welterweight Elaine Greenan lifted the title with a unanimous points win over Cherie McDonald.
"Cherie was coming at me all the time. I was trying to get those combinations together to finish her but I never could. She was going for my body all the time," said the 36-year-old.
Greenan, originally from Ireland, began boxing training three years ago to improve her fitness but knew immediately that she wanted to get in the ring.
She said: "The coaches at Livingston - Allan Fleming and Keith Dodds - were great and I just knew that I wanted to compete. They worked with me and knew I had the commitment and discipline."
Greenan is looking forward to continuing to represent Scotland, although it does mean many hours on the road.
"Boxing Scotland has become really good for women. They are putting money into it. We do have to travel to get fights but you do it if you want to. I work two jobs. There's no point waiting until tomorrow to live today."