Marvin Hagler-Tommy Hearns 30 years on - The greatest fight?
Last updated on .From the section Boxing94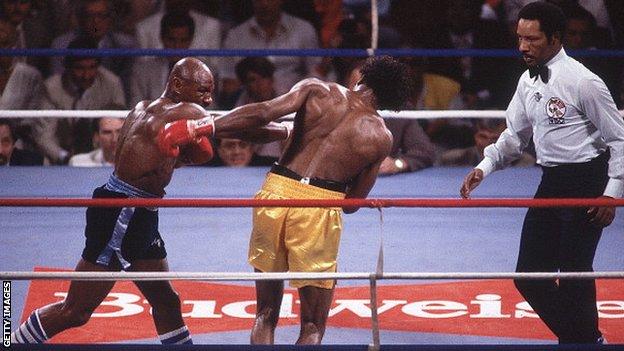 On 15 April 1985, Marvin Hagler and Tommy Hearns engaged in one of the greatest fights in history at Caesars Palace in Las Vegas. Hagler spoke to BBC Sport about the before, during and after of what came to be known as 'The War'.
Promoter Bob Arum called the fight between Marvin Hagler and Tommy Hearns "a referendum for boxing". The eight minutes and one second of mayhem that ensued validated the sport in the eyes of its supporters while strengthening the already widely held belief that it was such primeval savagery.
"Even today when I look at the film, I'm so glad when that fight is over," Hagler tells BBC Sport. And Hagler won it. So spare a thought for Hearns, who entered the ring at Caesars Palace clinking and clunking with bombs and grenades and who eventually had to be carried to his stool, like a sleeping baby.
The 1980s is now viewed as boxing's last golden age, at least in the United States. So it might surprise some to learn that Hagler and Hearns were viewed as potential resuscitators of a sport on life support.
Viewing figures were flagging. When Muhammad Ali finally hung them up in 1981, it left the heavyweight division with an almighty hole, which the dour Larry Holmes was unable to fill. When Sugar Ray Leonard, the charismatic and gifted heir to Ali, retired in 1984, to some it felt like the sun setting on the sport.
The early 1980s also saw an explosion of alphabet champions, so that single champions in recognisable weight classes became increasingly rare. In addition, the medical fraternity and politicians were lobbying hard for boxing's abolishment.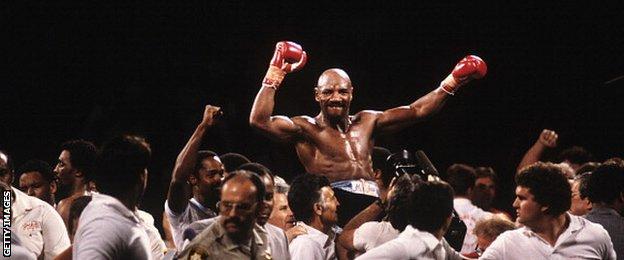 On the eve of Hagler-Hearns, the Chicago Tribune wrote: "Boxing has had enough autopsies to hire its own morgue, and it has of late been widely regarded as doomed." The Washington Post went with: "Hearns-Hagler to the rescue."
Much the same has been written about next month's eagerly anticipated match-up between Floyd Mayweather and Manny Pacquiao. In truth, boxing has been on life support since the days when men fought bare-knuckled at secret venues on heaths and moors, as far away from the prying eyes of the law as possible.
But for Arum, who is also promoting Mayweather-Pacquiao, Hagler-Hearns wasn't just his chance to prove that boxing was alive and well, it was his chance to prove that boxing could be the biggest and richest sport in the world again.
The world back then was a bigger place. So while one news conference was sufficient to announce the coming of Mayweather-Pacquiao in this age of social media, Hagler and Hearns had to endure a 21-city, 13-day promotional tour.
Never mind that Hagler and Hearns, like Mayweather and Pacquiao today, were widely recognised as the two best pound-for-pound fighters on the planet. The general sports fans of Phoenix, Cleveland and Reno still had to be convinced.
"I was seeing Tommy's face around all the time, hearing his comments," says Hagler, who had already defended his world middleweight title 10 times before fighting Hearns, a world champion at welterweight and light-middleweight.
"It was meaningless, just a lot of noise. But you get tired of that stuff, you get itchy. By the end of it I just wanted to rip his head off."
Hearns called Hagler, whose bald pate was unusual in those days, "funny looking". Hagler responded: "The only thing I've learned on this tour is that Tommy gets uglier every day." Punch and Judy stuff - yadda yadda yadda.
By the time they reached Miami - stop 15 - the 30-year-old Hagler, who had taken to wearing a baseball cap with 'WAR' emblazoned across it, was stuffing napkins in his ears whenever Hearns stood up to speak.
Both men, desperate to gain a psychological advantage, exuded supreme confidence. Hearns, 26, promised a third-round knockout. Hagler responded: "I don't know why Bob Arum keeps calling this the Magical Mystery Tour. There's no mystery about it - I'm going to knock Thomas out."
Somehow, both men found time for work. "I put myself in jail," says Hagler, who had been beaten twice in 64 fights and not since 1976. "After two and a half months, I was like an animal, ready to destroy."
However, plenty of good judges thought Hearns might have too much for Hagler. Standing 6ft 1in, freakishly tall for a natural welterweight, and his arms seemingly borrowed from another body, Hearns resembled a praying mantis.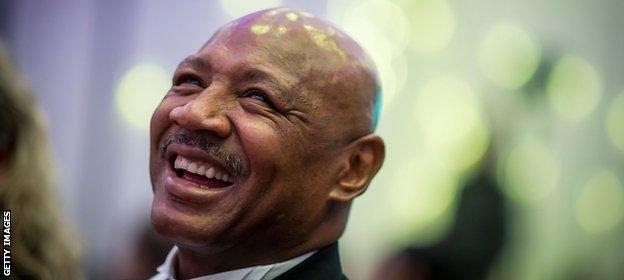 Hearns had been beaten only once, when he ran out of gas against Leonard in 1981 and was stopped in the 14th round. Either side of that epic bout, Hearns had knocked out 34 of 40 opponents, most of them with his vaunted right hand.
Furthermore, Hearns had rendered Panamanian great Roberto Duran unconscious with one punch the previous year. Duran was seen as a yardstick, because in his previous fight he had taken Hagler the full 15-round distance.
Hearns's trainer, the late Manny Steward, said of his charge: "Tommy comes into the ring like a leopard, let loose to feed." But Hagler was hungrier.
A product of Brockton, Massachusetts, the home town of heavyweight legend Rocky Marciano, Hagler had nevertheless waged a long battle for respect. Even after winning the world middleweight crown from Britain's Alan Minter in his 54th professional fight in 1980, Hagler still bristled with victimhood.
While Hearns, Leonard and Duran were engaging in a lucrative round-robin of fights in the early 1980s, Hagler was cleaning up the middleweight division for a relative pittance. In a bid to force the boxing fraternity to recognise his greatness, Hagler even had his name legally changed to 'Marvelous' - even if people didn't believe he was, making people say it was a victory of sorts.
Hagler was to have fought Hearns in 1982, only for Hearns to pull out because of a broken little finger. Even today, you sense Hagler's hurt and consternation. "If I was going to miss out on a million dollars because of a problem with my little, baby pinky," he says, "I'd cut that little, baby pinky off."
So while Hearns was a leopard let loose to feed by the time they finally came to meet in Las Vegas, Hagler was a seething mass of injustice.
Before the fighters were introduced, Hagler stalked the ring, pounding his fists into his face. According to one wise guy in the press seats, "if the introductions had gone on for one more minute, Hagler would have stopped himself".
"I liked to be very cautious, ease my way into a fight kind of slow," says Hagler. "But that wasn't possible. We were just ready to go at it, we just wanted to get this thing on. We didn't even hear that first bell ring."
What followed were three minutes of the merriest of hell. Crosses whistled into chins, hooks rattled ribs, uppercuts drilled into any opening they could find. Ears buzzed, shoulders shuddered, bones cracked. They didn't so much need protective cups as flak jackets. Boxing at its most gory - what boxing wanted.
"Tommy believed he could whup me and he wanted to come out and show that he wasn't afraid," says Hagler. "But I was ready for war and I knew it was going to be ugly. And he'd never met a guy like me - 'The Marvelous One.'"
The pre-fight consensus was that the result would be determined the moment Hearns exploded a right hand on Hagler's chin. And so it was.
"I respected Tommy's right hand but we wanted him to throw it," says Hagler. "Because after he'd thrown a few and I ate them up, he started thinking: 'Man, this guy ain't even backing up.' And I'm thinking: 'Now you belong to me.'"
Amid the cacophony, Hagler says he could hear nobody. Except his mum. "In a fight like that, you're not aware of anyone, not even the referee. But I could hear my mother saying: 'Hit him, baby! Hit him!' You know how mothers are."
At the end of the first round, Hearns told Steward he had broken a finger on his right hand. Hagler, meanwhile, had blood streaming from a gash in the middle of his forehead. The injuries were probably not entirely unrelated. The splendid Caesars Palace Hotel and Casino had been reduced to a human breaker's yard.
Head to head (at time of fight)

'Marvelous' Marvin Hagler

Thomas 'Hitman' Hearns

Brockton, Massachusetts

Home town

Detroit, Michigan

23 May 1954 (30)

Date of birth (age at the time)

18 October 1958 (26)

Southpaw

Stance

Orthodox

5ft 9½in

Height

6ft 1in

60 wins (50 KOs), 2 losses, 2 draws

Pro record

40 wins (34 KOs), 1 loss

Undisputed middleweight (10 defences)

Titles

WBC light-middleweight, WBA welterweight
In the second, Hagler gradually ground Hearns down. Switching between southpaw - all the better to land his right jab - and orthodox - all the better to land his right cross and left hook - Hagler had Hearns on jelly legs in the latter stages. Hearns, his primary weapon spent, was pretty much defenceless.
But a minute into the third round, Hearns was thrown a lifeline. "The referee [Richard Steele] took me to the corner and called over the doctor to take a look at the cut on my forehead," says Hagler. "The doctor said to me: 'Can you see?' And I said to the doctor: 'I ain't missing him, am I?'"
The fighters having been waved back in, Hagler landed with a right behind Hearns's ear. Hearns veered backwards like a top running out of spin, his face contorted into what looked like a grotesque grin. Hagler was soon on him, putting his wounded rival down with a right to the chin. Hearns managed to clamber back to his feet, only for Steele to call a halt to proceedings.
"When I see him today," says Hagler, who made a reported $9m for the fight, "Tommy still says to me: 'Hey, Hagler, we should do this thing one more time!' And I say: 'Why Tommy? Can't you remember what happened the first time?!'
"Every day people talk to me about that fight, like it happened yesterday. And now I see why people think that fight was one of the best in history. It was the highlight of my career. Both of us gave our hearts, our blood - everything."
Hagler only fought twice more, losing his middleweight crown to the returning Leonard in 1987, a defeat that still rankles. But at least he escaped with his senses, moving to Milan, marrying an Italian lady and living in contentment.
Hearns, despite winning world titles in five weight divisions, went on for far too long. Having finally retired in 2006, four years later he was forced to auction off his possessions to pay a tax bill. And nowadays he doesn't sound too lucid.
Viewed as a referendum for boxing, the outcome of Hagler-Hearns is unclear. But one thing is certain: Mayweather and Pacquiao have a lot to live up to.