Mayweather v Pacquiao: Unbeaten record a burden, says Calzaghe
By Nate Williams
BBC Sport
Last updated on .From the section Boxing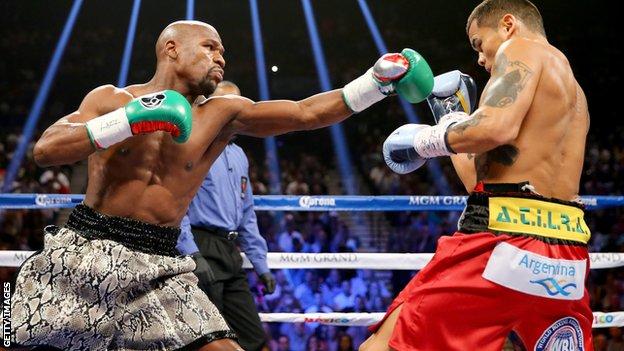 Floyd Mayweather's unbeaten record is "a massive burden" but he will still beat Manny Pacquiao in Las Vegas on 2 May, according to former undisputed world champion Joe Calzaghe.
American Mayweather has won all 47 of his professional bouts, 26 by knockout.
Calzaghe, 43, who retired with an undefeated record of 46-0 in 2008, says that record could affect him.
"There will be a lot more pressure on Mayweather than there will be on Pacquiao," he told BBC Sport.
"Pacquiao has been beaten so he'll be more relaxed than Mayweather. The 'zero' is a massive burden."
The Welshman added: "I don't think Mayweather was that impressive in his last two defences against Marcos Maidana. He made hard work of those fights.
"But you can't overlook a guy that's never lost. Mayweather is a fantastic fighter who always finds a way to win so he will be ready for this fight."
Filipino Pacquiao goes into the fight with a record of 57 wins, five losses and two draws.
"Pacquiao can fight and there's always one great fight left in somebody, but I think the win will go to Mayweather," Calzaghe added.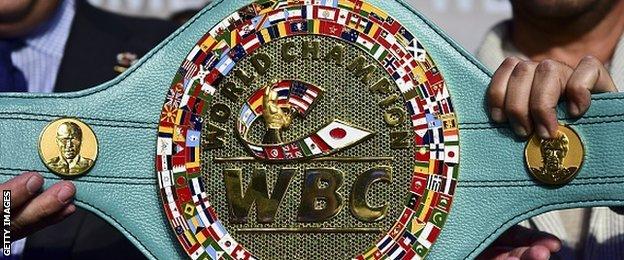 The long-anticipated match-up between Mayweather, 38, and 36-year-old Pacquiao was agreed in February, after more than five years of on-and-off negotiations.
The two men are considered the best fighters of their generation and the 2 May showdown is expected to be the most lucrative bout in history.
Mayweather says he will have just one more fight after Pacquiao.
If he manages to retire unbeaten, he will join Calzaghe and just 11 other fighters who have ended their careers without a loss.
"When you've been at the top of the sport for so many years, it's your life and it becomes very difficult just to quit boxing and find something else to be happy," said Calzaghe.
"Sometimes you're not happy for a while and you get lost but eventually, you do realise that this has to be the end of what you did.
"The older you get, the more it wears down on your body and it takes longer to recover.
"Also, psychologically it's hard to pick yourself up for big fights but, saying that, this is bigger than anything so I'm sure Mayweather will be completely up for this fight.
"It's a fight the whole boxing world is waiting to see."
Head to head

Floyd Mayweather

Manny Pacquiao

Money

Nickname

Pac Man

Las Vegas, USA

Home town

General Santos City, Philippines

24 February 1977 (38)

Date of birth

17 December 1978 (36)

Orthodox

Stance

Southpaw

5ft 8in

Height

5ft 6in

47 fights, 47 wins (26 KOs)

Pro record

64 fights, 57 wins (38 KOs), 5 losses, 2 draws

WBC & WBA welterweight, WBC light-middleweight

Current titles

WBO welterweight