Carl Frampton v Scott Quigg will not happen, says Barry McGuigan
By Dan Roan & Ben Dirs
BBC Sport
Last updated on .From the section Boxing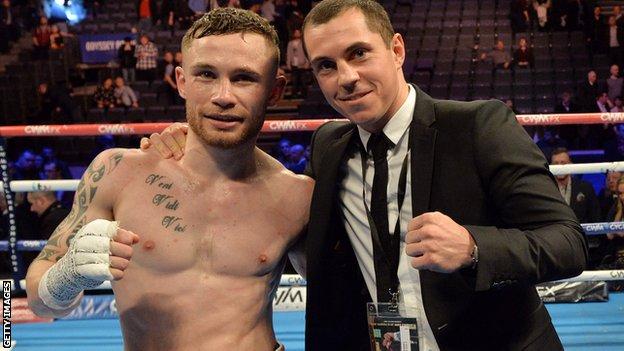 A proposed fight between Carl Frampton and Scott Quigg will not happen soon, according to Frampton's manager and promoter Barry McGuigan.
It was hoped that Belfast's Frampton, the IBF super-bantamweight champion, and Quigg, who holds a portion of the WBA title, would meet this summer.
But McGuigan said Quigg's team would not agree on a 60-40 purse split in favour of Frampton.
"It's sad for the fans because we wanted it to happen," said McGuigan.
"Carl was willing to travel to England to put his title on the line, and when the champion does that he normally gets the majority of the purse.
"Carl is a valid champion. Scott Quigg is the WBA's 'regular' champion, not the real champion, which is [Cuba's] Guillermo Rigondeaux.
"Carl has drawn crowds of 16,000 in Belfast. I don't want to be rude to Scott Quigg, but he's never headlined a show.
"We wanted a minimum of 60-40, not the winner takes 60-40 [as Quigg's promoter Eddie Hearn is on record as offering], because that's unfair on the fighters."
Earlier this month, Hearn appeared on Sky Sports brandishing a £1.5m cheque, which he promised Frampton if he took the unification fight.
Added former featherweight world champion McGuigan: "It was going along fine and then Eddie Hearn said: 'We're going to make you an offer.'
"He did it because he's bullish, he's cocky and he thinks he has control of everything, but he hasn't.
"They weren't willing to play ball. Sorry, but that's just the way it is. We're well on the way to getting another opponent."
The 28-year-old Frampton, who is unbeaten in 20 professional fights, stopped Californian Chris Avalos to retain his IBF belt in March.
Unbeaten Quigg, 26, successfully defended his super-bantamweight title for a fifth time in November with a unanimous points win over Hidenori Otake.