Joe Ham: Featherweight targets third pro win in Gorbals bout

By Keir Murray
BBC Scotland
Last updated on .From the section Boxing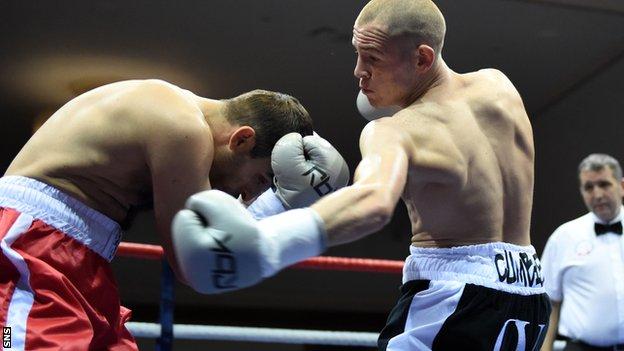 Glasgow featherweight Joe Ham plans to stop his Hungarian opponent Aron Szilagyi when they meet in the city's Gorbals Leisure Centre on Saturday.
He ended his first two fights since turning professional after the Commonwealth Games with vicious body shots in the early rounds.
"This guy has had eight fights and has never been stopped," said Ham, 23.
"It's another test. I am comfortable that I'll put the first stoppage on his record, no worries."
Budapest 19-year-old Szilagyi has won three and drawn one of his bouts, with four defeats on points. He is already well-travelled, having had pro fights in Slovakia, Finland, England, Belgium and Northern Ireland.
He will now take on Ham in the Scot's home patch.
"It means a lot, I grew up there," Ham told BBC Scotland about fighting in the Gorbals.
"Hopefully I can get another good win in front of a home crowd. I'm really looking forward to coming out to a big crowd.
"I've sold about 150 tickets just by myself and there are six other fights on. It's the same night as the Floyd Mayweather-Manny Pacquiao fight so there will be a lot of interest in boxing this weekend."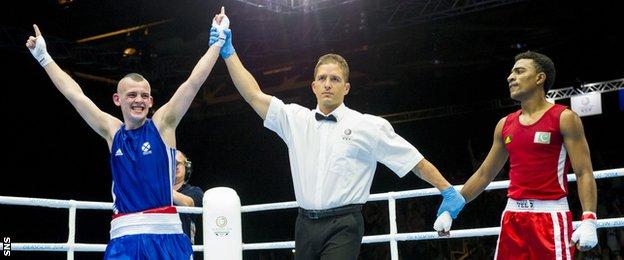 Ham, trained by his father, also Joe, at his Hayfield Boxing Club, juggles his fledgling pro boxing career with a joinery apprenticeship.
He runs home from college to get that part of his training out of the way before heading to the gym in the evenings.
"I'm always on the go but I prefer it that way," he said.
"With City Building, they look after me. I'm on a good site and I've got a good group of boys in my college class."
Ham can often be found running at Glasgow's Cathkin Braes, a favourite training area for another Gorbals fighter - and a world champion - Benny Lynch, back in the 1930s.
He recently returned from a week's sparring and warm weather training in Marbella and is feeling in excellent shape ahead of the weekend.
His first two paid bouts ended swiftly. In December he felled David Kvaratskhelia in the first minute and last month took two rounds to defeat Aivaras Balsys, but he has no concerns that the fights are ending too soon to gain experience.
"If I get the opportunity to stop somebody I'm doing it. I've gained enough experience," he said.
"I had 130 fights as an amateur and travelled the world since I was 12 years old.
"The amateurs was basically my apprenticeship and this is where it starts to get serious.
"I want to get up the ranking quite quickly. If you knock people out, people take notice. I've got two out of two so far, hopefully it will be 5-and-0 (five wins-no losses) or 6-and-0 by the end of the year and then I'll get ready for big things in 2016.
"Hopefully this will be my last four rounder, then I'll try it at six. The opponents will get harder, it's a step up every time."
Szilagyi fought on the undercard of the Carl Frampton-Chris Avalos bout in Belfast in February
Ham added: "He has boxed on a bigger stage and has never been stopped. He knocked the guy out in his last bout. He is a lively opponent, only 19, so he's fresh.
"It's up to me to take him out."
Asked about the biggest difference he has noticed moving into the professional game, Ham replied: "The gloves are smaller.
"I prefer them. It's easier to hurt people, but you always have to remember that the other guy is wearing them as well.
"You can't switch off for a second against anybody because it's a dangerous sport and anything can happen. You can't take anybody lightly."