Kellie Maloney says Gary Cornish two years away from world title
Last updated on .From the section Boxing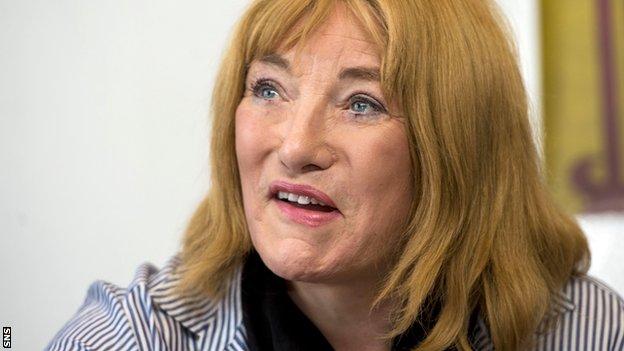 Boxing promoter Kellie Maloney believes Gary Cornish can be a world heavyweight champion in two years.
Inverness fighter Cornish will face Hungarian IBO intercontinental champion Zoltan Csala on 23 May.
"I helped produce Scott Harrison, Scotland's featherweight champion and that was a great ride and a great journey," said Maloney.
"I do believe within two years Gary could fight for the world heavyweight title if we do it right."
The 28-year-old Cornish is still unbeaten since turning professional, but Maloney, who is making a comeback to boxing as a promoter less than a year after announcing she was undergoing gender reassignment, wants Cornish to take his time getting to the top.
"I'm not going to make any outrageous promises that we are going to make him world heavyweight champion," she said.
"We want to make him heavyweight world champion and we'll work to make him world heavyweight champion and we'll do all the right things.
"The first thing in our grasp is the IBO international title and then the British title."
Maloney helped Lennox Lewis win the world heavyweight championship, one of only seven British fighters to do so, but there has never been a Scotsman to win the title at world or British level.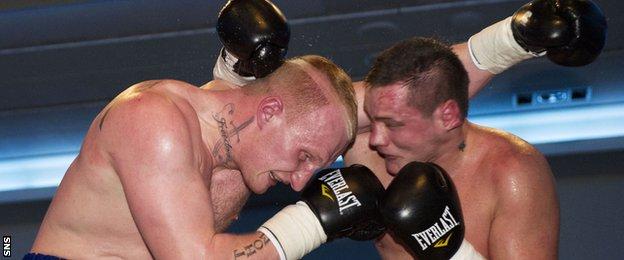 "I don't want to go there and just fight for it, I'd like to go there and win it," said Maloney. "I had 12 great years with Lennox Lewis and to do it with a Scottish fighter would be fantastic because I know the support that they would bring.
"I can just imagine seeing Las Vegas full of 30,000-40,000 mad Scotsmen enjoying themselves, with me in the front.
"I think he [Cornish] has got great heart. There are big fights out there. There's David Price, there's [Anthony] Joshua, they're great fights.
"They'll be made at the right time when we feel he's ready for them fights. He's still serving an apprenticeship. He may have had 20 professional fights but he's only had nine amateur fights."
Cornish, who has a record of 11 knockouts in 20 wins, said he will let his promoter concentrate on how his career pans out.
He told BBC Scotland: "The journey began when I turned pro. I don't look too far ahead, I just look at the next fight because you can always get beat.
"I don't really know too much about him [Csala] to be honest. We'll let him worry about us.
"Today was the first day I've seen a picture of him - he looks like a good target."