Mayweather v Pacquiao: How to follow the super-fight
Last updated on .From the section Boxing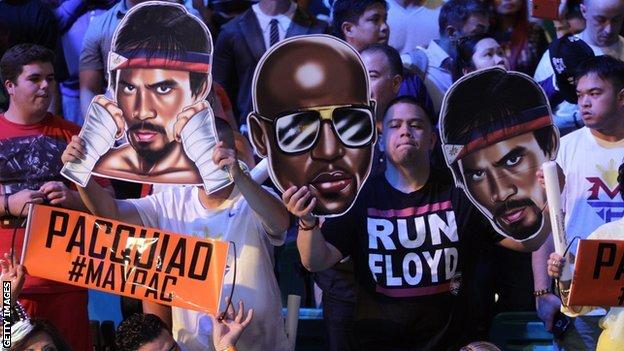 Ringside? In a casino? Chilling in Manila? Or from the sofa?
Of course, we'd suggest following the action with our BBC Sport live text commentary from 02:00 BST, with 5 live's Mike Costello providing ringside commentary from Vegas from 03:30 BST (earliest predicted ring walk 03:45).
But if you're feeling adventurous, here are a few imaginative ways of making sure you don't miss the action.
In Las Vegas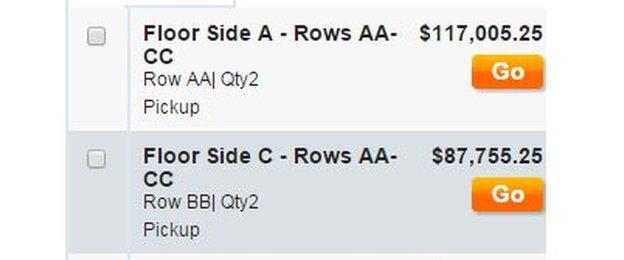 Apparently, what happens in Vegas, stays in Vegas. And you might have to leave your common sense in the Nevada desert if you're willing to stump up for a ringside seat.
The MGM Grand was pretty much sold out before tickets even went on sale. And the 500 that were available to the public went in 30 seconds.
But tickets on the second-sale market have been re-sold for thousands of pounds.
Earlier in the week, a front-row, ringside seat was being offered for an eye watering $350,005.25 (£231,500) on StubHub, although they had dropped to $117,005.25 (£77,277) by Saturday.
Out of your price range? How about one of MGM's other Vegas venues?
Around 150,000 tickets, at $150 a go, were available to watch the fight on closed-circuit screens elsewhere in Sin City. One of those on the re-sale market will set you back about at least $250, with some getting up to $1,600.
In the Philippines... but don't put the kettle on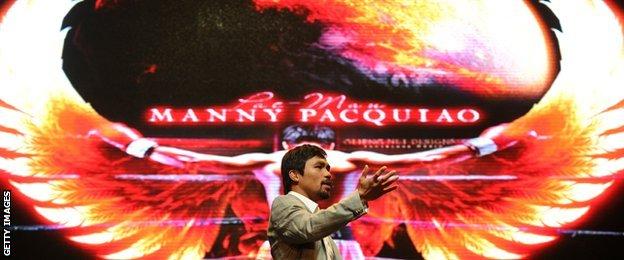 Pacquiao's home country of the Philippines is expected to come to a standstill on Sunday morning local time.
Five TV stations are screening the bout for free and the power surge across the nation, as Filipinos tune in to watch their hero, is expected to be so strong that an electric company has urged customers to turn off major appliances to help prevent outages.
Those with a penchant for boxing nostalgia can take a seat at the Araneta Coliseum in Manila, sight of the epic battle between Muhammad Ali and Joe Frazier in 1975, to watch it on big screens.
Puff Daddy, Jay Z and Bow Wow

Are you a major American hip hop recording artist and want to make a boat load of cash over fight weekend? Then you're in luck.
Puff Daddy, Jay Z, Flo-Rida and Bow Wow are just some of the stars appearing at events across Las Vegas, ranging from warm-up parties to after-show get-togethers.
Or, for $250, you could watch the fight in the city at the Mike Tyson Mansion. Don't be fooled though - Iron Mike has not lived there for years and will not be turning up.
Which countries get it for free?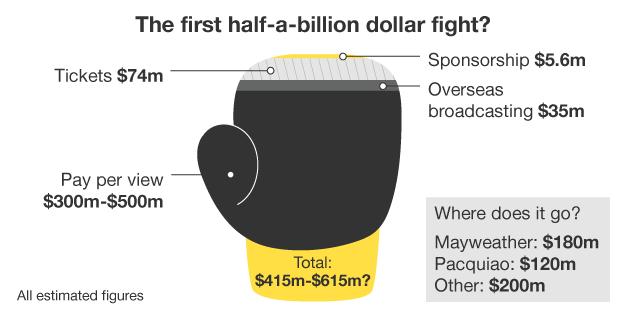 In the UK, the only way to watch the fight is to pay the £19.95 fee on Sky Box Office.
That's favourable compared to the $90-$100 Americans will have stump up. And while a host of other nations' fight fans are also having to book the bout on PPV, there are some countries that are a little luckier.
The closest of which is possibly Poland, where sports channel TVP has it on. South Africa's Super Sport and two channels in Mexico are also options.
The social media dilemma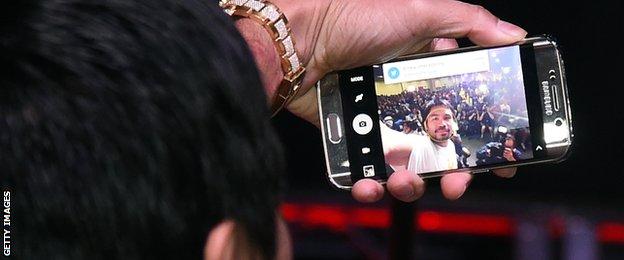 The recent launch of Periscope and Meerkat, phone apps that allow users to stream live video on social media, could prove troublesome.
While it would be illegal to broadcast footage of the fight without a rights deal, it will be difficult for fight promoters to keep across any unsanctioned streams.
Away from illegal broadcasts, social media is expected to explode on fight night, and text updates for those unable to watch the match could be the best way of keeping across the action.
Twitter said there were 672m tweets relating to last year's World Cup during the event, with a peak of 618,725 per minute during the final - can Mayweather v Pacquiao top that?