Mayweather v Pacquiao: Purity is at the heart of hyped-up fight
Last updated on .From the section Boxing118
Mayweather v Pacquiao
Venue:
MGM Grand, Las Vegas
Date:
2/3 May: 21:00 local time/05:00 Sunday BST
Coverage:
Live text commentary on the BBC Sport website
By Ben Dirs, BBC Sport in Las Vegas
Mammon have mercy on us - they even put the price of cigarettes up. During a week when Las Vegas was engulfed by a money storm so suffocating, even those in town to puff away on the penny machines have been buried.
There has been a lot to find odious about the build-up to the most lucrative boxing match in history. Between Floyd Mayweather (a convicted wife beater) talking about money and Manny Pacquiao (who is against gay marriage and has called condoms "sinful") talking about God, boxing has barely had a look in.
At first, the numbers being bandied about - $400m in total revenue, a $74m live gate, as much as $300,000 for tickets, $50,000 for a hotel suite - made you smirk. Then you discovered it was as much as $150 to watch the fight in a bar, $30 for a programme, $20 for a poster, and the smirk became a grimace.
On Friday, 11,500 people paid $10 each to watch two men in pants stand on some scales. Some paid as much as $600 for the privilege. It might sound strange to say it about a Vegas casino, but the MGM Grand has become a theatre of the absurd.
But professional boxing has always been morally perverse. And Mayweather was correct when he said this week that "your parents should be your role models before any athlete". If your kids need a role model, show them a nurse.
If you thought Mayweather-Pacquiao was immoral, back in 1923 a world heavyweight title fight between Jack Dempsey and Tommy Gibbons ruined the small town of Shelby, Montana. Dempsey and promoter Tex Rickard walked away with hundreds of thousands of pounds but four Shelby banks went under.
It is this madness, this darkness - this shamelessness - that attracts film-makers and writers to the sport like moths to a flame. As most other sports have become sanitised, boxing has remained defiantly dirty.
Mayweather's father and trainer, Floyd Sr, was also correct when he said that in consuming money so conspicuously, his son was only doing what boxers have always done.
The only difference is that the rampantly capitalist world we have created has allowed Mayweather to make more money than any athlete before him. Which is why those commentators who have sought to diminish this fight's greatness on the grounds that it lacks a cultural or political or social dimension are wrong.
Mayweather is as much a product of his times as Muhammad Ali in the 1960s. Why would Mayweather proffer an opinion on the riots in Baltimore when his mind is filled with thoughts of Lamborghinis?
You might argue it reflects well on society that so many people - based on a quick look on social media - want Pacquiao to prevail. In addition, "I'm picking Mayweather but I hope it's Pacquiao" is a sentence I've heard so many times this week in Vegas that they should have made it the promotional tagline.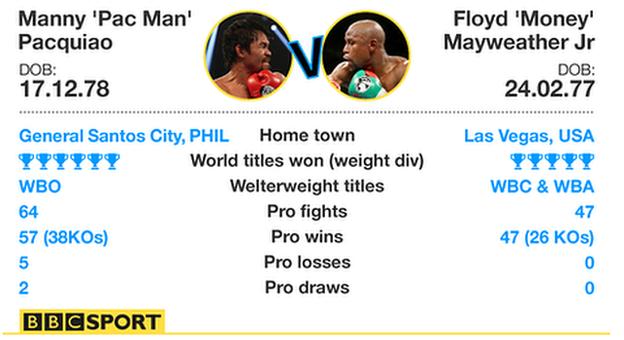 But given that Pacquiao is an often absent congressman in the Philippines, and was against legislation to introduce subsidised birth control and widen family planning offerings, the idea that this is a fight between good and evil is faintly ridiculous. But boxing does good guys and bad guys and nothing in between.
Perhaps it is society's failing that so many people are able to suspend judgement in the name of entertainment. Or maybe we shouldn't be looking too deep. "This fight is not about good against evil," said Mayweather earlier this week. "This is about two fighters at the top of their sport entertaining the fans."
Mayweather's comments reminded us that Saturday's bout is a sporting contest rather than a morality play. It is two of the most gifted athletes on the planet pitting their wits against each other; two of the greatest boxers to have ever laced gloves putting their lives on the line; two small men making boxing the biggest sport in the world again. Although, you might ask, at what cost.
Its richness is not in doubt, its greatness is. Heavyweight great Evander Holyfield, who took part in some of the most stirring bouts in history back in his 1990s heyday, is right to point out that greatness is not the same as hype.
"So far this is the biggest hype in history and everyone's saying it's the fight of the century," Holyfield told BBC Sport. "Well, it could be. But it depends on what they do in the ring.
"When I fought Tyson the first time [Holyfield beat him twice, including the infamous 'Bite Fight' rematch in 1997], it was a big promotion - but it was backed up by the fight. So let's see how this fight pans out and whether it lives up to the hype."
Holyfield is right, in that we only remember the hype before the 'Rumble in the Jungle' or the 'Thrilla in Manila' because the fights turned out to be so good the hype became an integral part of their mythology.
Opinions vary as to whether Mayweather-Pacquiao will deliver. Some believe it will be a pleasing mesh of styles, with defensive master Mayweather up against the all-action Pacquiao making for 12 rounds of intriguing ebb and flow.
But others suspect it will be a chess match, with Mayweather refusing to engage and Pacquiao not wanting to get picked off. And nobody shells out $100, which is what the fight costs on pay-per-view in the United States, to watch chess on their telly.
The real danger for boxing is that if the fight is a stinker, millions around the world will feel cheated. For many, this will be the first fight they have watched for years - or ever. And the last thing boxing needs is a 12-round bore-fest, which will elicit the widespread response: "Is that the best that boxing has got?"
Those who love boxing and understand that it is about so much more than grotesque Vegas hoopla - control, courage, discipline, respect - will be keeping fingers crossed. Wade through the murk and perhaps you, too, will find purity.