European Games: Paddy Barnes & Michael Conlan to miss Baku event
Last updated on .From the section Boxing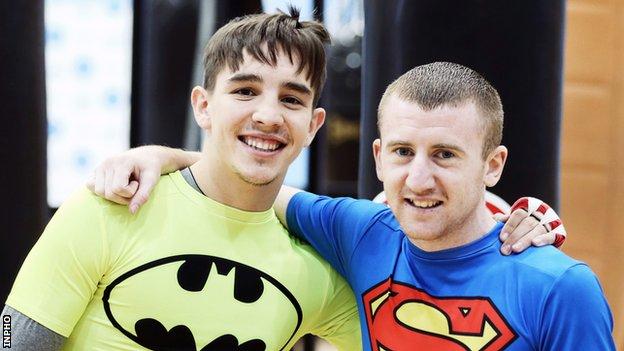 Paddy Barnes and Michael Conlan have opted out of the inaugural European Games in Baku in June following their qualification for the Rio Olympics.
Following their tough but successful Spring campaigns in the World Boxing Series, the Belfast duo are now unlikely to compete again until August.
The Olympic medallists are set to fight at the European Championships in Sofia.
Light-fly Barnes will be replaced by Brendan Irvine in Baku with Kurt Walker in Conlan's bantamweight division.
The European Championships will take place almost two months later in the Bulgarian capital (6-15 August) and like the European Games in Azerbaijan, will also be a qualifier for the World Championships which will be in Doha in November.
The eight-man Irish boxing team for the Baku Games includes Belfast lightweight Sean McComb and experienced Kilkenny and Wexford fighters Darren O'Neill and Adam Nolan.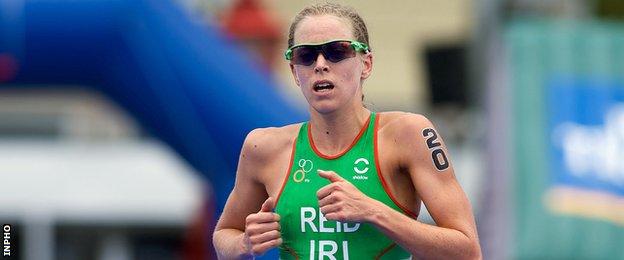 Olympic champion Katie Taylor will be joined by Belfast woman and Commonwealth Games silver medallists Michaela Walsh in the Irish women's team for the European Games which take place from 12-28 June.
Cavan fighter Ceire Smith complete the three-strong women's boxing team for the Baku championships.
Several other Northern Ireland athletes will compete for Ireland in Azerbaijan including triathletes Aileen Reid and Russell White, cyclist Sean Downey and judo player Eoin Fleming.
Nicole Mawhinney will be in action in artistic gymnastics with swimmers Rachel Bethel, Danielle Hill, Emma Reid and James Brown also making the trip.
The swimming squad also includes Donegal youngster Mona McSharry.
Donegal sister and brothers Chloe, Josh and Sam Magee will compete in badminton along with another Raphoe native Rachael Darragh.
In all, 63 athletes will represent Ireland across 14 sports.
The Baku Games will see over 6,000 athletes from 50 countries competing in 20 sports.
Ireland team
Men's Boxing: Brendan Irvine (light fly), Myles Casey (fly), Dean Gardiner (super heavy), Sean McComb (light), Adam Nolan (Welter), Darren O'Neill (heavy), Michael O'Neill (middle), Kurt Walker (bantam), Dean Walsh (light-welter)
Canoeing: Tom Brennan (Men's KI 200m), Simas Dobrovolskis (K2 200m, 1000m), Jenny Egan (K1 200m 500m, 5000m), Peter Egan (K2 200m, 1000m, 5000m), Andrezj Jezierski (C1 200m)
Cycling: Caroline Ryan (women's time trial and road race), Ryan Mullen (time trial), Sean Downey (time trial and road race), Eddie Dunbar (time trial and road race), Jack Wilson (time trial and road race), Connor Dunne (time trial and road race)
Gymnastics: Eilis O'Reilly, Tara Donnelly, Nicole Macwhinney, Kieran Behan, Rohan Sebastian, Daniel Fox
Taekwondo: Chloe Aboud (67 kg)
Archery: Sinead Cuthbert Cunningham (women's individual), Darren Wallace (men's individual)
Aquatics: Rory McEvoy (backstroke 50m, 100m, 200m; Mona McSharry (breaststroke 50m, 100m, 200m, 50m freestyle), Rachel Bethel (freestyle, 50m, 100m, 200m freestyle), Danielle Hill (backstroke 50m, 100m, 200m, butterfly 50m, freestyle 200m), Emma Reid (butterfly 50m, 100m 200m), Andrew Moore (breaststroke 50m, 100m, 200m, IM 400m), James Brown (butterfly 50m, 100m, 200m, IM 400m, Benjamin Doyle (butterfly 50m 100m; IM 200m, 400m), Alan Corby (backstroke 50m, 100m, 200m, breaststroke 50m, butterfly 100m, IM 200m), Niamh Kilgallen (breaststroke 50m, 100m, 200m, butterfly 50m), Kate Bagueley (freestyle 400m, 800m, 1500m, IM 400m), Iseult Hayes (backstroke 50m, 100m, freestyle 50m, 100m), Natasha MacManus (diving 1m, 3m platform)
Badminton: Chloe Magee (ladies singles, mixed doubles), Josh Magee (men's doubles), Rachael Darragh (ladies doubles), Sara Boyle (ladies doubles), Scott Evans (men's singles), Sam Magee (men's doubles and mixed doubles)
Basketball 3x3: Niamh Dwyer, Grainne Dwyer, Suzanne Maguire, Orla O'Reilly
Women's boxing: Katie Taylor (60kg), Michaela Walsh (54kg), Ceire Smith (51kg)
Judo: Eoin Flemings (men's 73kg)
Karate: Karen Dolphin (women's kata)
Shooting: Derek Burnett (shotgun trap)
Triathlon: Aileen Reid, Russell White, Aaron O'Brien
Wrestling: Alex Dolly (men's freestyle 84kg), Soslan Tuaev (men's freestyle 74kg)