Sam Ball ready for professional bow in front of Greenock fans
Last updated on .From the section Boxing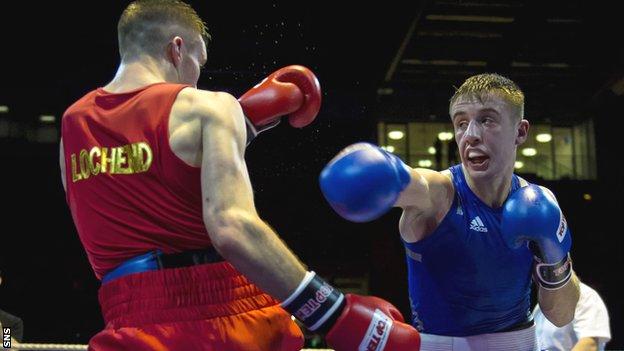 By Keir Murray, BBC Scotland
Sam Ball leaves the amateur ranks behind on Friday as Greenock hosts a professional boxing show for the first time since the 1960s.
The home town welterweight has eight Scottish national titles before losing in last year's final to Josh Taylor, who went on to win Commonwealth gold.
Ball, 19, will make his paid debut against Oldham's Ashley Mayall in his home town.
"After the Commonwealth Games qualifiers I wasn't wanting to wait four years for another go," he said.
"I boxed for nine years as an amateur and that final against Josh at the Emirates Arena in Glasgow was probably one of the best fights I've ever had.
"I gave it my best go. Josh told me he thought it was an excellent fight.
"I had good qualification points for getting in to the Scotland Team for Glasgow 2014 so it all come down to that fight and unfortunately I didn't quite make it."
Defeat is a rarity for Ball.
Since first going along to Danny Lee's boxing club in Greenock when he was 11, he won the Scottish Western District title in his first fight, won it another five times, won the Scottish championship every year until that bout with Lochend Amateur Boxing Club's Olympian, Taylor, and was crowned British champion on three occasions.
He boxed for Scotland at World and European championships and was part of the Achieve 2014 programme that took promising athletes to the 2010 Delhi Games for experience.
Now, boxing is his chosen professional career and he hopes his promoter Colin Bellshaw can keep him busy.
John Simpson, another Greenockian, is the headline act at the town hall, while Ball and Port Glasgow's Grant Quigley form part of the undercard.
"The preparation has been unbelievable. I'm feeling the best ever going into a bout," Ball told BBC Scotland.
"I've been doing strength and conditioning training with Ross McGaffney, who does the Commando-style training, and I just can't wait to fight in front of all my friends and family."
Bellshaw, who runs Saltire Boxing Promotions, has been keeping tabs on Ball's progress throughout his teenage years and his signed him on a three-year contract.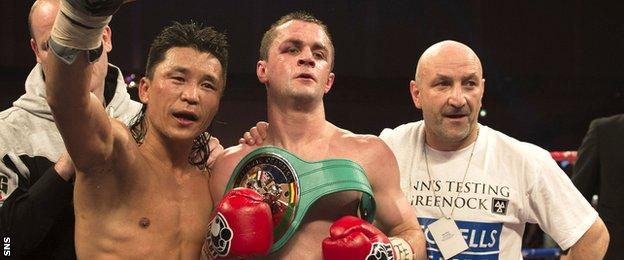 "I've known Sam and Grant since they were 14. When we signed them I promised them we'd put on a show in their local area," he said.
"It should be a great atmosphere at Greenock Town Hall. We'll have about 600 fans there."
Ball, who in 2013 in Russia became the first Scottish boxer to defeat a Cuban, will take on a 24-year-old fighter who has won five and lost four of his bouts.
"It's quite a test for the boy but we have faith in his ability," said Bellshaw.
A confidant Ball added: "I can fight at long range or on the inside.
"If I'm winning long, I stay long. If I need to fight inside with bent-arm shots, that's what I'll do.
"My next fight is at the St Andrews Sporting Club on 4 June. I want to go into that with a win under my belt."
In only his second pro fight Quigley takes on Stoke's Chris Nixon while Bellshaw is "looking for John Simpson to come back with a big performance" in his featherweight bout.
"There are a few possibilities if he wins in style," he said of the former British and Commonwealth champion.