Carl Froch: A trash-talking family man and boxing great

By Robin Chipperfield
BBC Radio Nottingham
Last updated on .From the section Boxing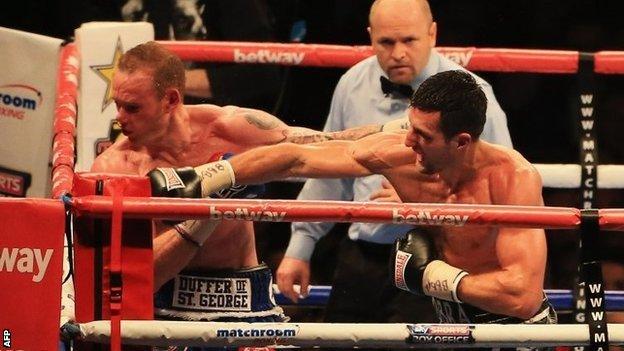 The Carl Froch you've seen in front of a camera, heard on the radio, or read about is not the same one that many of us have been lucky enough to get to know over the past 12 years or so.
The bombastic words and the 'trash talk' never appeared to sit easily with him during his 13-year professional career.
Clearly selling tickets and creating a buzz is a huge part of boxing. But I wonder whether he'd have a much higher place in the UK's affections now he's ended his career had he come across as the genuine, thoughtful guy that he is.
But then, would 80,000 have forked out for tickets at Wembley if he'd been 'Mr Nice Guy'? Probably not.
Carl Froch's life in boxing
Born:
Nottingham, 2 July 1977
Amateur honours:
ABA middleweight champion, 1999 & 2001; World Amateur bronze, 2001
Turned pro:
16 March 2002
Pro record:
35 fights, 33 wins (24 KOs), two defeats
Pro honours:
WBC, WBA, IBF super-middleweight champion, former English, British, Commonwealth champion
Best wins:
J Pascal (PTS, 2008); J Taylor (KO12, 2009); L Bute (KO5, 2012); M Kessler (PTS, 2013); G Groves (TKO8, 2014)
You can hear BBC Radio Nottingham's Carl Froch tribute programme "Froch - a Nottingham legend" from 1800-1900 BST on Tuesday
It's been fun interviewing Froch in vastly different places. And, oddly, you would get a different interview depending on where we were.
In a news conference, where there were other boxers and boxing media around, he'd be in "boxing mode" and answer questions in a polite, but bullish way. A total stranger would almost certainly have guessed Carl's profession from his attitude and demeanour.
I was lucky enough to speak to him in a wide range of places - in his home, cafes and even by a hotel rooftop pool in the Atlantic City sunshine - and he was almost a completely different guy.
Had a stranger met him there, they would never guess what he did for a living; he was relaxed, chatty and gave more considered answers.
It was such an insight, for example, recording an interview in Atlantic City with him the morning after his success over Glen Johnson.
As he and girlfriend Rachael Cordingley picked at breakfast, Carl sat there calmly talking about his work the night before.
He'd barely slept after the fight as the adrenaline continued to flow, but he was easy-going and gave generously of his time.
At that moment, he wasn't a boxer but just a normal bloke. I wish more of the general public had got to see him like that.
Inevitably, the world of boxing and the hype that goes with it polarises opinion. Much of the country's first knowledge of Froch would have been of a younger 'upstart' continually challenging and questioning the validity of Joe Calzaghe's achievements - and that turned some against him.
Froch could hardly complain - and didn't - years later when other younger 'upstarts' tried to attach themselves to his coattails to try to garner publicity and widen their profile.
Carl has changed over the years. The demands on his time have changed too.
In his early career, only BBC Radio Nottingham and the local paper, the Nottingham Post, were interested.
Later in his career, there was the welcome addition of the national newspapers, worldwide television companies, and countless websites to deal with. His time inevitably became more and more precious.
Why Froch will not be forgotten
"Fighting Carl Froch must have been like being pursued by a boulder, gathering speed through a tunnel. Most who turned to brace themselves got flattened. Some who ran got splattered as they grasped for the light. The most tenacious reached the exit. But only the fleetest had their hand raised after the trauma."
Read more from Ben Dirs on Froch the "throwback fighter"
I've never been able to work out whether the fame that has gone along with his achievements over the past few years is something he's welcomed.
Would he rather have been famous when entering the ring and anonymous the moment he left it? An appearance on the BBC TV series Tumble may well answer that question.
It was a source of continued frustration to me (so I can only imagine what it was like for him) that, despite his achievements, he was not gaining the publicity, recognition or TV deals that his talent warranted.
His dramatic stoppage of Jermain Taylor in 2009, with only 14 seconds of the fight left, felt like a huge miss at the time for Carl and the TV companies.
While it was shown the following evening on ITV4, the sheer drama and Rocky-style ending would have surely made him a huge British star at that moment - had it been shown on live television that night.
It was only in the latter stages of his career that his success seemed to attract a suitable level of media attention and praise.
But it was probably the career-saving destruction of Lucian Bute at the Nottingham Arena, in front of a baying home crowd, that saw him finally make the impact on the nation's consciousness.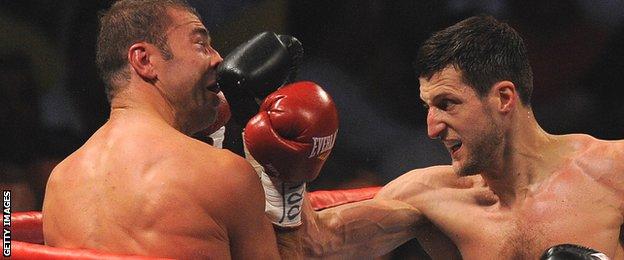 It was only a month or so ago that Carl popped into the BBC and we chatted for half an hour - he was seemingly a man with no pressure on him.
It felt like he'd achieved everything he needed to in the sport and he spoke glowingly about his partner Rachael and children Rocco and Natalia - his eyes lighting up as he mentioned they were expecting a third child.
At that moment, it felt that he'd made his mind up.
Why put your future with a lovely young family at risk for a payday that you don't need? He's financially secure for the rest of his life - why take the chance of injury in the ring?
It was at the Nottingham Arena that I'd seen Froch fight for the first time - against Guadeloupe-born journeyman Valery Odin in his sixth professional fight in 2003.
Hometown hero
Carl Froch always championed his home city of Nottingham during his career and will be remembered as one of its greatest sportsmen - and he always wore the Nottingham Forest club badge on his shorts in the ring.
Carl Froch's career in pictures
Little did I realise the journey that he was to go on, ending with that stunning right-hand punch in the eighth round to drop George Groves in front of 80,000 at Wembley Stadium.
For the affable but ferocious Froch, it seems only right to go out in that way.