Mayweather-Pacquiao damaged boxing, says Ricky Hatton
Last updated on .From the section Boxing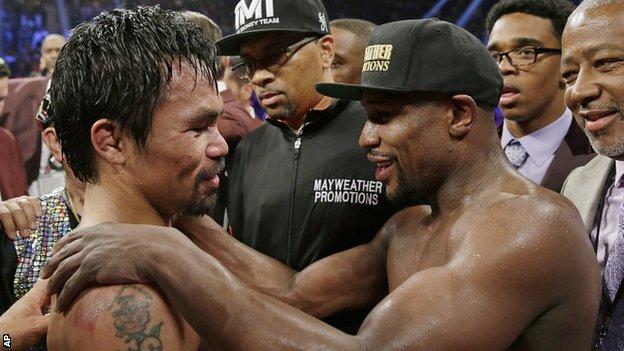 Since Floyd Mayweather beat Manny Pacquiao in 'The Fight of the Century' in Las Vegas, much has been written about its ramifications for boxing.
Mayweather's one-sided victory was not even the fight of the night and there are those who believe the anti-climactic conclusion to five years of hype damaged, rather than enhanced, the game.
Manchester's former two-weight world champion Ricky Hatton, who fought both Mayweather and Pacquiao, spoke to BBC Sport about the big-fight fallout, boxing's lack of star quality, its future hopes - and why Britain's Amir Khan could be the man to end Mayweather's 48-fight unbeaten run.
Q: Given what was effectively a five-year build-up and the massive hype surrounding the fight, did Mayweather's rather underwhelming victory over Pacquiao hurt boxing?
RH: It was damaging for the sport. I can't imagine there is anyone out there saying they loved it. Considering they're two all-time greats, the money they walked away with, what the fans had to pay, it was all a bit of a letdown. Then when Manny blamed his defeat on a shoulder injury, it soured it even further.
Boxing has UFC (The Ultimate Fighting Championship) breathing heavily down its neck and it was the first boxing match that had crossed over into the mainstream for a long time, so we needed it to be exceptional. But there were more negatives than positives.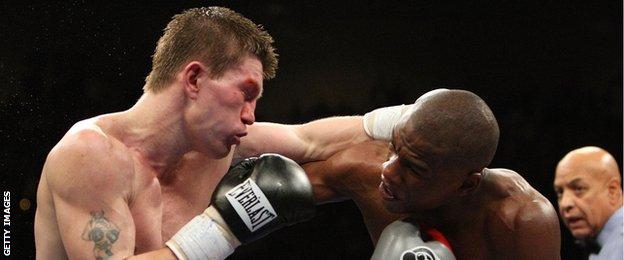 If you'd got up at 5am to watch it in the UK and you hadn't seen a fight in years, you might not bother watching boxing again.
Q: Did you agree with the pre-fight assessment of some commentators that Mayweather-Pacquiao could save boxing?
RH: I don't think boxing needs saving from anyone - but we are in an era that isn't as powerful as previous eras. It's certainly not a golden era of boxing.
There are some great fighters out there apart from Mayweather and Pacquiao - [WBA super-middleweight champion] Andre Ward and [WBA middleweight champion] Gennady Golovkin spring to mind.
But Ward, brilliant as he is, isn't that exciting. Golovkin is exciting, goes for the knockouts, but there's nobody else for him at middleweight and he might have to go up to super-middle to fight Ward, which would definitely capture the public's imagination.
But boxing is a gladiator sport. People can imagine playing football at Old Trafford or cricket at Lord's but they can't even begin to imagine fighting in front of 80,000 at Wembley. That's why boxers are so highly regarded and why boxing will always have its fans. It will never die.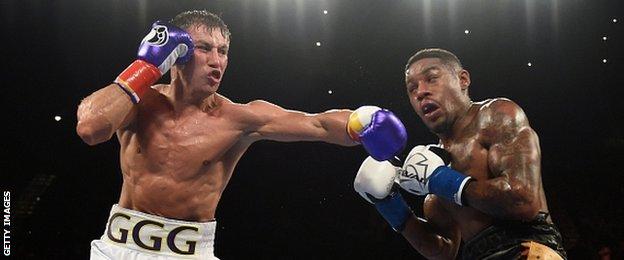 Q: If Mayweather had been around in the early-to-mid 1990s, when the likes of Mike Tyson, Evander Holyfield, Roy Jones, Julio Cesar Chavez and Pernell Whitaker were among boxing's biggest draws, would he have been as big as he is now?
RH: No, I don't think so. Mayweather has proven that he's probably better than all of those names. But he is a superstar in an era of very few superstars. Floyd will be remembered for his brilliance between the ropes and for being a colourful character outside of the ring, but not for the excitement he provided.
Mayweather is not bothered about pleasing the crowd, he's bothered about doing what he does and getting paid. He doesn't have you on the edge of your seat, let's put it that way.
As a boxer, I sit there and watch his ability and think: "Wow, look at his movement, that's unbelievable". But a non-boxing person will probably be sitting there thinking: "I've paid all this money, what the hell am I watching?!"
Q: Does Britain's Amir Khan, who fights American Chris Algieri in New York next week, deserve a shot at Mayweather - and could he cause an upset?
RH: If anyone deserves that kind of pay day it's Amir Khan. He's taken a lot of criticism over the years, mainly because of his chin. But he's been beaten a couple of times, come back and is now performing better than ever. He's also hardly ever in a bad fight, so hats off to him.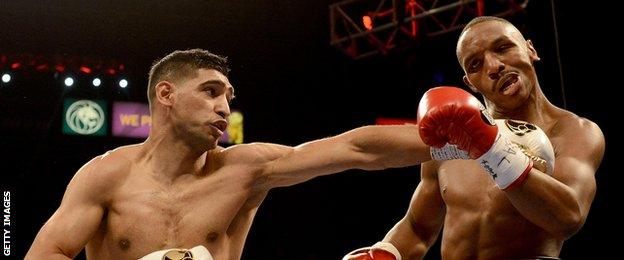 When Amir has got involved, he's been hit on the chin and come unstuck. But in his last two wins, over Luis Collazo and Devon Alexander, he fought the way he should have been fighting all along - stayed disciplined, used his speed and his boxing ability. When he puts all that together, not many can stop him.
If anyone's going to beat Mayweather, it's Amir. People look at me like I'm an idiot when I say that. But styles make fights and Amir boxing the way he is at the moment is the last thing Floyd needs at this stage of his career.
Q: Mayweather has been promising Khan a fight for the last couple of years, do you think he'll finally grant him his wish?
RH: Mayweather has got one fight left on his Showtime contract in the United States and needs one more win to equal Rocky Marciano's record of 49 unbeaten fights, so why would he risk fighting Amir Khan?
I'm not saying Amir is better than Floyd, but Amir is perhaps the only person who can match him for speed. The fact that Amir is boxing as well as he is could be the worst thing for making the Mayweather fight.
Floyd can't choose any Tom, Dick or Harry for that fight in September. But Americans like to see Americans fight each other. The only reason they'd gloss over that is if somebody had a following like I did, which Amir doesn't. And not many Americans are likely to pay to watch him on TV.
Q: You've just released a book about your exploits in Las Vegas, where you fought five times. Given that you never fought on terrestrial television, how were you able to break into the mainstream, and appeal to American audiences, when other British fighters have struggled to do so?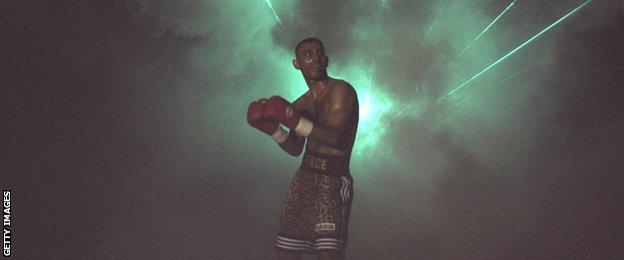 RH: When I turned pro in the late 1990s, everybody was saying that you needed to be on terrestrial TV to get the popularity. But I made a name for myself on Sky because every time I boxed it was like I was in a shop window - I played to the fans, I wanted the fans to love me and be proud of me.
You won't get a better atmosphere than you had at my fights because of the passion they had. There were 30,000 Brits in Vegas when I fought Mayweather [Hatton was knocked out in the 10th round in 2007].
We used to have a lot of showmen, like Naseem Hamed and Chris Eubank, but there are not a lot of entertainers in boxing at the moment.
Q: On the evidence so far, could British heavyweight prospect Anthony Joshua - who won Olympic gold in 2012 and has 12 knockouts from 12 pro fights - be British boxing's next superstar?
RH: He's very good but he hasn't fought anyone yet. He's reached the stage now when he's going to have to fight someone because he's been handling it so easy and blasting everyone out. Kevin Johnson [Joshua fights the American, who has never been stopped, on 30 May] is a step in the right direction. He needs a test.
The heavyweight division in Britain has been OK in recent years, what with David Haye, Tyson Fury and Dereck Chisora. But overall it's poor at the moment - aside from Wladimir Klitschko, WBC champion Deontay Wilder is the best of a bad crop.
We need to see what Joshua's stamina is like and we need to see him get hit on the chin. If he ticks those boxes then we'll be getting very excited.
Q: Would boxing be healthier if it was shown more on terrestrial television?
RH: Boxing has provided so many great nights over the years on terrestrial TV and there must be people at ITV and the BBC who are sat there thinking: "We used to have Benn-Eubank, McGuigan-Pedroza, I'd like to bring those days back."
But Sky is boxing in Britain because terrestrial channels don't bring enough money. The biggest fights demand big money and terrestrial TV can't make the pounds, shillings and pence add up.
[Promoter] Eddie Hearn made a good point when he was trying to make the fight between [IBF super-bantamweight champion] Carl Frampton and [WBA champion] Scott Quigg. [Frampton's manager] Barry McGuigan suggested the fight be on ITV, but Eddie was right when he said that the pinnacle for any boxer is to fight on Sky pay-per-view - that's how he makes the most money.
If you were a boxer, would you rather make £2m for a fight watched by a few hundred thousand people or £400,000 for a fight watched by 10m people? I hope terrestrial TV does more, because more competition is healthy for the sport. But it's hard for them to compete with pay-per-view.