Forget MayPac - brilliant Brits breathe life into boxing
By Ben Dirs
BBC Sport at London's O2 Arena
Last updated on .From the section Boxing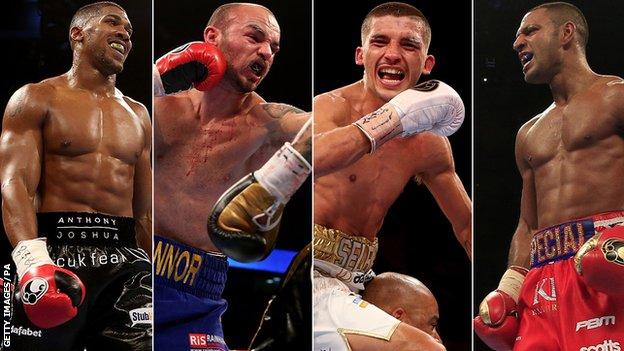 Flash! Bang! Wallop! What a night of boxing in London. Lee Selby provided the flash, Anthony Joshua provided the bang, and the wallop piled up so fast at the O2 Arena that you needed wings to stay above it.
Fans and journalists are quick to criticise when boxing gets it wrong - the so-called 'Fight of the Century' between Floyd Mayweather and Manny Pacquiao, now known by some as 'Better Never Than Late', took a right old battering - so they should be just as quick to tip their hats when boxing gets it so right.
So high was the feel-good factor on Saturday that even James DeGale, who became Britain's first Olympic boxing champion to win a world title in the paid ranks last weekend but has for so long been regarded as a villain, was cheered to the rafters. On the big screen, DeGale appeared to be saying: "What? Me?!"
In cramming three world title fights involving four British boxers, two British title fights, a Commonwealth title fight and another Joshua demolition into seven hours, promoter Eddie Hearn vindicated Sky's decision to charge £17 for the privilege. All those brave boys getting walloped need to get paid.
Saturday's key results

Fight
Belt/weight
Winner

Kell Brook v Frankie Gavin

IBF welterweight

Brook by sixth-round stoppage

Anthony Joshua v Kevin Johnson

Heavyweight (non-title fight)

Joshua by second-round stoppage

Lee Selby v Evgeny Gradovich

IBF featherweight

Selby by eighth-round technical decision

Kevin Mitchell v Jorge Linares

WBC lightweight

Linares by 10th-round stoppage

Saturday's other winners & losers
Performer of the night - although it seems churlish to choose one - was Selby, who became Wales's third featherweight world champion by dethroning IBF title-holder Evgeny Gradovich. If the main gift of the night was carnage, it was at least wrapped up in the silk spun by Selby, topped with a bow.
Selby, whose movement was balletic at times, made a man with four world title defences to his name look like a club fighter. The Barry stylist has the unerring ability to feather the accelerator at just the right time and when he said he beat his Russian opponent while in second gear, you almost believed him.
The 28-year-old has been mocked on social media because of the nickname that was apparently bestowed on him by a mischievous journalist, 'The Welsh Mayweather'. But while Selby gets tagged a little bit more than the American legend, he also dishes enough out to keep the punters interested.
With the addition of DeGale's IBF super-middleweight and Selby's IBF featherweight belts, the United Kingdom can now boast six world champions. Carl Froch and Amir Khan are currently beltless but can nevertheless claim to be among the best pound-for-pound boxers on the planet.
According to the naysayers, boxing is on its death bed - always has been and always will be, might as well roll itself into a big ball and die. Actually, at least on these shores, it is experiencing a golden age.
Desperately unlucky not to swell the number of UK world champions to seven was Dagenham's Kevin Mitchell, whose unsuccessful challenge for Jorge Linares's WBC lightweight title was the most stirring contest of the night.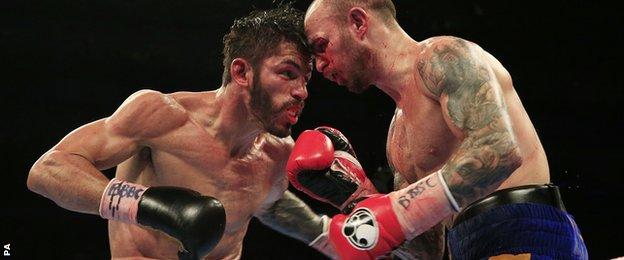 Mitchell's was a heartening story. A promising career having been derailed by alcohol addiction and well-beaten by Ricky Burns when challenging for the Scot's WBO title in 2012, Mitchell was desperate to make the most of his second chance. But boxing has a habit of stomping all over the sweetest dreams.
When Mitchell floored his Venezuelan rival, who resembled a middleweight in the ring, in the fifth round it looked like the contest had been turned on its head. But by the 10th Mitchell's nose was busted, the lump around his left eye was literally growing before our eyes and the referee had no choice but to step in.
Mitchell walloped and was walloped to the strains of West Ham anthem 'Bubbles'. Like his dreams, they faded and died. Mitchell, 30, will come again. But having taken another ferocious beating, he might be close to popping.
When Anthony Joshua, all 6ft 6in and almost 18st of him, is bearing down on you, you can't even see the sky, so good luck blowing any bubbles past him.
Before their fight, Kevin Johnson, who had not been stopped in a 36-fight professional career and had even taken Vitali Klitschko the distance, called Joshua "a big baby". Turns out, Kev, you won't like this baby when he's angry.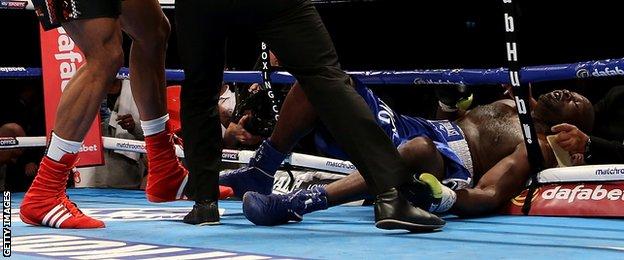 Joshua hit Johnson so hard the American veteran will be hearing lullabies for weeks. That's 13 wins out of 13 for the Londoner in the paid ranks, all of them inside three rounds. It is difficult to remember a more exciting prospect in the heavyweight division, from any country. It should be a rollicking ride.
Such was the quality of entertainment on display lower down the card that Kell Brook's second successful defence of his IBF welterweight title, against British rival Frankie Gavin, was reduced to something of a footnote.
It was a decent enough fight but didn't teach us anything we didn't already know. Namely that Sheffield's Brook is a world-class operator and Brummie Gavin, Britain's only ever amateur world champion, doesn't quite have what it takes to cut it at elite level in the pros. Being awkward is not enough on its own.
Afterwards, talk inevitably turned to a potential - and potentially classic - match between Brook and Bolton's former two-time world champion Amir Khan. And so Hearn, having just staged one of the best British boxing shows anyone present could remember, finished the night howling in frustration.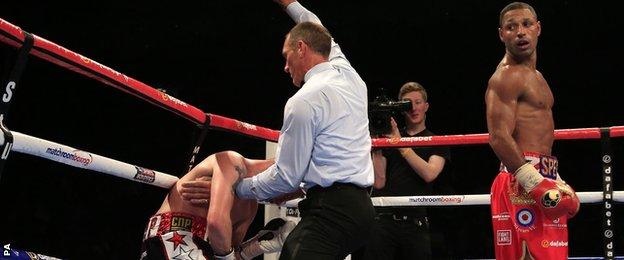 "Amir Khan is a brilliant fighter but he's scared of getting beat," said Hearn. "They could fill the Millennium Stadium, get 1m buys on pay-per-view. Khan can have the lion's share, it can be a Khan promotion. I don't give a monkey's, I just want to make the fight."
Khan, who outpointed American Chris Algieri in New York on Friday, is set on a fight against Mayweather, who says he will retire after one last outing in September. Hearn can howl as loud as he wants, Khan simply isn't listening.
Never mind. For now Hearn can look back and be proud of a bill very well put together. So good was it, I only have the time and space to mention in passing a few barnstorming domestic scraps lower down the running order.
Even without Brook-Khan on the horizon, British boxing will be flashing, banging and walloping for the foreseeable future. As far as boxing goes, that's pretty much all you can ask for.