Lee Haskins hints at retirement if he loses interim world title fight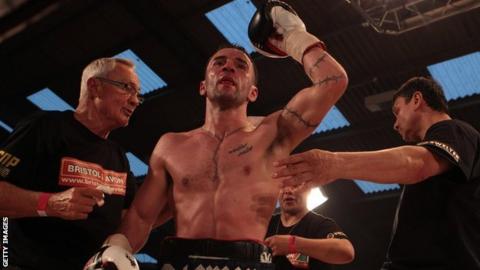 British bantamweight Lee Haskins says his interim IBF world title fight against Ryosuke Iwasa could be the last of his career should he lose.
Haskins, 32, has hinted that defeat to his Japanese opponent in Bristol on Saturday may lead to retirement.
He will have home advantage at the Action Indoor Sports Centre, with the winner set for a shot at reigning IBF champion Randy Caballero.
"My next fight could be retirement for me," Haskins told BBC Radio Bristol.
"If I was to lose this then I could be on the road to retirement and we don't want that. I would take some time off and contemplate retirement if I was to lose but I'm confident I can win."
Haskins said his training camp had been the most intense of his 34-fight career and he is banking on home support to help him overcome his opponent..
"I'm always confident but this is a 50/50 fight," he said.
"I've fought away before and it does aggravate you mentally. It's all about how he copes with it."
Iwasa has won 19 of his 20 fights and has predicted the fight will not last the distance.
"I will try to knock him out in the middle rounds. That will be more entertaining for the fans," the 25-year-old said.
"I'm nervous but excited and I'm looking forward to winning this fight. I try to do the basic boxing skills and I will try to produce a beautiful boxing style to show the British people.
"It's a big risk to come over from Japan to Bristol, but it will be a big gain if I win this fight. If I do win this fight, I can go back to Japan as a hero.
"We're both fighters and we both want to win this fight. I hope the people of Bristol have a good show to watch."