Lee Haskins: IBF interim champion ready for world stage
Last updated on .From the section Boxing
IBF interim world bantamweight champion Lee Haskins is ready to fight anyone in the division after his stunning victory over Japan's Ryosuke Iwasa.
The victory has catapulted Bristol's Haskins on to the world stage after a career-changing performance.
"I'm ready for anybody," he told BBC Sport. "I'm on top of the world. I believe I can go all the way."
Haskins, who now has a record of 32 wins and three defeats, will first have to wait and see what happens to IBF champion Randy Caballero, who is currently injured, but a contest against the American could be his next fight.
However, if Caballero does not return or is stripped of his title, a rematch with WBA champion Jamie McDonnell is the biggest fight available for Haskins.
He beat McDonnell over eight rounds back in 2008 and would welcome the chance to do it again, but is also keen to meet WBC title-holder Shinsuke Yamanaka.
"I'm not going to call him [McDonnell] out as that would be wrong, but he is a great fighter and I'll fight him any day as long as we're fighting for a world title," Haskins said.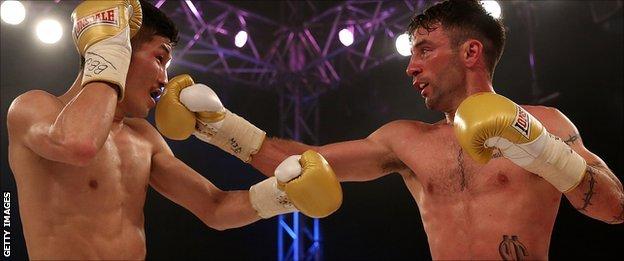 After years toiling on the domestic scene, Haskins revealed he did not think his time on the world stage would come and admitted the moment of victory was surreal.
"I'm the happiest man in the world," he said. "I wasn't too sure if it was me who was knocked out and I was dreaming. I'll wake up on the canvas in a minute."
The fight, which was jointly promoted by Haskins' management duo of Jamie and Chris Sanigar as well as Mick Hennessy, was described as "blistering" and "sensational" by the latter, who hopes to stage his next contest in Bristol in September.
"He's a world champion now and is in a different bracket so depending on who he fights, let's just say he's just manoeuvred himself into a great position," Hennessy told BBC Sport.
"I think the Bristol support certainly helped rev Lee up tonight, I really do. It was beyond belief, it went crazy around the ring and personally I don't mind that. That's what it's all about."