European Games 2015: Nicola Adams 'back to her best' in Baku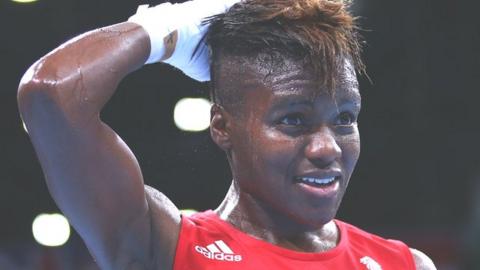 Olympic champion Nicola Adams said she feels back to her best after reaching the quarter-finals of the European Games in Baku.
The flyweight, 32, eased to victory over Hungary's Katalin Ancsin by a unanimous verdict, and will next fight Stoyka Petrova from Bulgaria on Monday.
The Leeds boxer had shoulder surgery last year, missing the World Championships.
"I'm feeling excellent, 10 times better than I was last year," said Adams.
"Everything went to plan. I can't wait to get back in there on Monday.
"It was really hard boxing in a competition with an injured shoulder, now I'm back to my normal self."
Adams was Team GB's flagbearer for the inaugural European Games and is vying with Lisa Whiteside for the sole flyweight place in the British team for the 2016 Rio Olympics.
Whiteside won the English National Championships in April after Adams withdrew from the event following a burglary.
Adams beat her quarter-final opponent Petrova en route to becoming boxing's first female Olympic champion in 2012, and said it was a "shame" the bout would not be the final in Baku.
The Brit has eight other wins over the Bulgarian, including one last month, but Petrova prevailed in last year's European Championships.