European Games 2015: top seed Anthony Fowler loses opening bout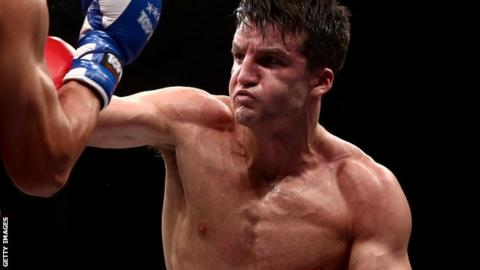 Top-seeded middleweight boxer Anthony Fowler said the judging was "a joke" after his early exit from the European Games in Baku, Azerbaijan.
Fowler, 24, suffered a unanimous points defeat against Italy's 19-year-old Salvatore Caballero in his first bout.
"I'm just devastated. It puts me off amateur boxing," said Fowler. "I just felt like everything I was doing I was getting no reward."
Katherine Torrance and Matty Lee both won diving gold medal for Team GB.
The 16-year-old Torrance topped the table with 448.25 points in the women's 3m springboard, while Lee, 17, won the men's platform.
Torrance and Lee join James Heatly and Lois Toulson in picking up diving gold medals at the championships.
'The Italians must have thought it was Christmas'
Liverpool's Fowler, cousin of former footballer Robbie, appeared to be in control of the opening exchanges, but in the end he lost all three rounds to his opponent.
"I thought the new system would score aggression positively but the kid was just running away and surviving," he said. "I thought it was a joke, to be honest.
"It felt like before the fight the judges knew the Italian was going to win.
"Whatever I did, I was just getting nothing for it. The Italians must have thought it was Christmas Day."
More medals for GB
Kat Driscoll won a silver medal in the individual trampoline.
The 2012 Olympian, 29, posted a score of 53.910 to take second place behind Russia's Yana Pavlova.
"This medal is only my second individually at this level so it ranks very highly," said Driscoll.
"I was a bit disappointed with my qualifying routine with a few mistakes so I knew I had to step it up for the final. I am really pleased to have done that."
Mixed acrobatic gymnastics pair Hannah Baughn and Ryan Bartlett collected two bronze medals each in the dynamic and the balance finals. The pair had already won bronze on Friday in the all-around competition.
They finished behind Russian duo Marina Chernova and Georgy Pataraya and Belgium's Yana Vastavel and Solano Cassamajor, who took gold and silver respectively in all three disciplines.
Sambo time
On Monday, the martial sport of sambo will make its debut at the European Games. The name comes from an acronym of the Russian words for 'self-defence without weapons'.
It was developed in the 1920s by the Red Army in order to improve hand-to-hand combat and has similarities with judo and wrestling.