Oscar De La Hoya: Boxing great could make comeback
Last updated on .From the section Boxing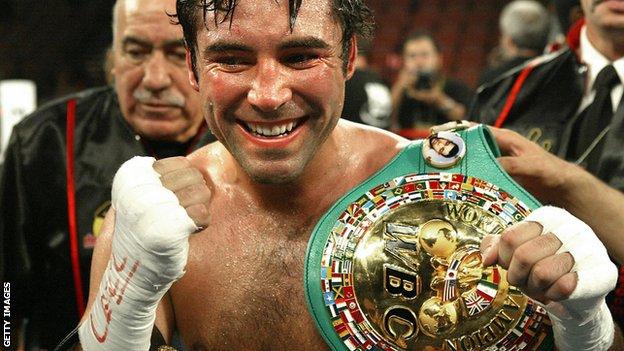 Boxing great Oscar De La Hoya says he is "very serious" about making a return to the ring at the age of 42.
De La Hoya, a former six-weight world champion, retired in 2009 after losing to Manny Pacquiao in his last fight.
"The only reason I would come back is because I miss the competition of fighting the very best," De La Hoya told ESPN.
Welterweight champion Floyd Mayweather is expected to fight in September, with Amir Khan a possible opponent.
De La Hoya record
39 wins (30 knockouts), six defeats
Champion at: Featherweight, lightweight, light welterweight, welterweight, light middleweight, middleweight
Since retiring, De La Hoya has become a boxing promoter but has also battled alcohol and drugs addictions.
He said after losing to Pacquiao: "I just don't have it any more. My heart still wants to fight, but when you physically can't respond, what can you do?"
However, the American has now described his chances of fighting again as "50-50" saying he "feels great".
"I don't have to come back for financial reasons or the lights or the glamour," he said.
"Right now I feel the best I have felt in my life physically, emotionally, mentally because I haven't touched alcohol for I don't know how long.
"I'm training. I feel great. But it has to be worth my while. Would I do it? I don't know but I wake up every morning thinking that I can."