European Games: Greenbank wins gold as Adams reaches final
Last updated on .From the section Swimming
Luke Greenbank claimed the men's 100m backstroke gold as Great Britain won three swimming medals at the Baku 2015 European Games on Wednesday.
Greenbank, 17, won the first final of the evening before Team GB won silver in the mixed relay event.
In the men's 200m breaststroke, Luke Davies, 18, beat fellow Briton Charlie Attwood to claim a bronze medal.
Meanwhile, Qais Ashfaq won bantamweight bronze after losing his semi-final to Belarus's Dzmitry Asanau.
Ashfaq will secure a World Championship qualification spot if his victor wins the gold.
"It was exactly what I expected but I wasn't feeling myself," said Ashfaq.
"Even warming up I wasn't feeling myself but that's part of the experience and I'll come back stronger and by the time the Olympics comes round I'll win that gold medal."
The swimming in Baku - like the diving - is a junior event. It features women up to the age of 16 and men up to the age of 18.
Greenbank - who favours the 200m backstroke distance - said that competing at the 2014 Youth Olympics in Nanjing, China, played a big role in his Baku performance.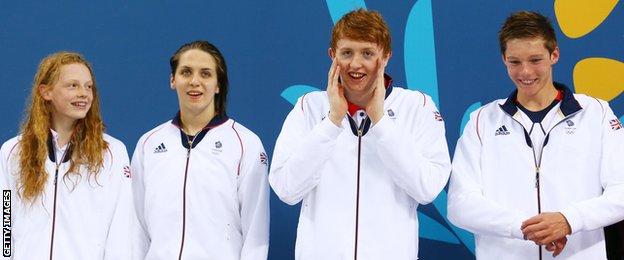 The mixed-relay event - featuring two male and two female swimmers - was only ratified by the sport's international governing body last year.
Team GB - which consisted of Georgia Coates, Darcy Deakin, Martyn Walton and Duncan Scott - finished in three minutes 32.65 seconds as they were beaten by Russia (3:30.30).
Davies, meanwhile, finished behind the Russian pair of Anton Chupkov and Kirill Mordashev, who were first and second respectively, to earn his 200m breaststroke bronze medal.
"It's fantastic to win bronze, I knew I could get a personal best and I managed to do that and it got me a medal," said Davies.
Meanwhile, Britain's Olympic champion Nicola Adams will fight for gold at the European Games in Baku after winning her flyweight semi-final.
Adams, 32, beat Turkey's Elif Coskun by a unanimous decision to guarantee at least a silver medal.
The Commonwealth champion will now face Poland's former European silver medallist Sandra Drabik in the final on Thursday.
"I really want this gold, said Adams. "I don't think anyone can stop me."
"It's another chance at history," she added. "I keep creating history each time I get in the ring and I'm just loving the moment."
In the fencing, Britain's Natalia Sheppard suffered an extra-time defeat by Germany's Carolin Golubytskyi.
Sheppard progressed to the last 16 by winning four of her five pool encounters but was beaten 13-12 in the women's foil first knockout round.