Tommy Martin comfortable choosing boxing over football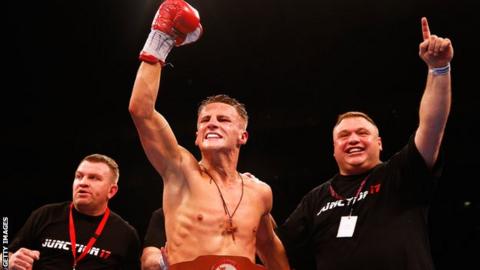 Unbeaten English light welterweight champion Tommy Martin says choosing between football and boxing was easy.
Martin was previously on the books of League One side Peterborough, but turned down a goalkeeping scholarship.
"You've got to put your focus on one sport if you want to make it," the 21-year-old told BBC Radio Cambridgeshire.
"As soon as I stepped into the gym, I thought 'I don't want to be on a cold, muddy football pitch - I want to be in the gym punching someone's head in'."
Martin, who has won all of his 11 professional fights, added: "It shocked a lot of people. A lot of people didn't want to see me quit football, but I knew if I put my all into it, I knew where I'd get to."
His biggest boxing win to date came in January, when he beat favourite Ricky Boylan for the English title, becoming the youngest man in history to win the national belt.
Chelmsford-born Martin takes on Terry Needham on Friday in Liverpool, on the undercard of Tony Bellew's fight against Ivica Bacurin, and is looking for a rapid rise in the boxing world.
"I'm 21 and everyone keeps telling me there's no rush, but I know my potential and I know the results I'm getting in training," he said.
"Friday is all about showing them that end result, they don't see what goes on before and I know that in that gym what I've been putting in is more than enough to beat Terry Needham.
He added: "I'd love to go down the WBC route, start off with international belts, work my way up the rankings and you never know, the world's my oyster, I become world champion."