Darleys Perez: Anthony Crolla's opponent on his battle to the top
Last updated on .From the section Boxing
Saturday night boxing
Venue:
Manchester Arena
Date:
Saturday 18 July
Coverage:
Quigg v Martinez, 21:00 BST, BBC Radio 5 live sports extra, Crolla v Perez, 22:15 BST, BBC Radio 5 live
When Darleys Perez fights Britain's Anthony Crolla on Saturday to defend his WBA lightweight title it will be another chapter in a remarkable story.
From growing up in a poor Colombia town, he turned his back on the paramilitaries that dominated the area, represented his country in the Olympics and reached the top of his sport.
In a wide-ranging interview with BBC Sport, Perez talks about...
His confidence of beating Crolla in front of his home fans
Rejecting a life of danger with the paramilitaries
Overcoming the deaths of his manager and his brother
Inspiring the next generation and creating a legacy
'I'm not going home without my world title'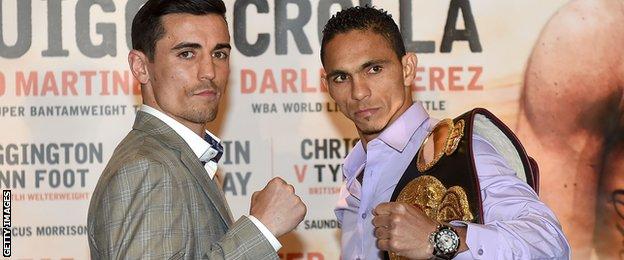 Crolla will be fighting for the world title at the Manchester Arena but Perez expects to leave the home fans unhappy.
"It's going to be very loud and the crowd will be pro Crolla," said Perez. "He'll have everyone in the arena rooting for him, but that doesn't bother me. There's no way I'm going back to Colombia without my World title.
"It will be hard, it will be a very fierce fight. But we're 100% mentally and physically ready and prepared for a great fight."
Perez had been interim WBA champion but moved up to the full title in April when former holder Richar Abril was stripped of his belt after he had twice pulled out of scheduled fights with England's Derry Mathews.
Childhood growing up in a poor Colombia town
Perez says winning the world title has "realised the dreams I had since I was very young" after he grew up in San Pedro de Uraba, a town which was a paramilitary stronghold.
"It was not easy because it's a town that doesn't have many opportunities; for study, for work, for anything," added Perez. "You survive how you can.
"It's a good terrain but there aren't a lot of opportunities to be comfortable in what you want to be. If you're a studious person you have to leave for another city."
Rejecting the paramilitaries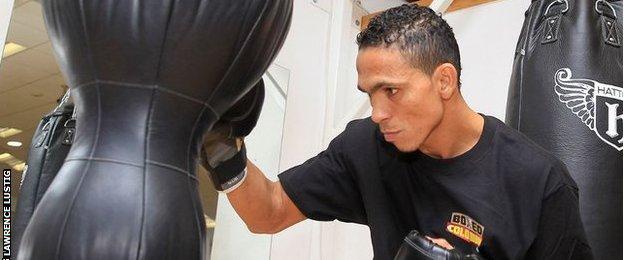 In 1998, Perez started boxing but was soon offered a different, more dangerous lifestyle - with the paramilitaries that controlled the area.
Perez explained: "When I was a teenager, when I had no money, a friend said to come [to the paramilitaries] and that I would be well paid.
"But I did well to go my own way, to tell him you're crazy and not my friend. They were offering me something I didn't like and which was very dangerous.
"I was not tempted, never. Guns and stuff scare me. I never took the road of danger. I grew up with friends and cousins and the majority aren't here. Some are in prison, some are dead."
'A war that has no sense'
Boxing provided a way out for Perez in 2000, but many others did not have anything or anyone they could turn to and joined the paramilitaries.
"That life was not easy. It's a war; a war that has no sense," added Perez.
"I get sad with people that choose that and they end up in prison or dying.
"My friends that went that way wanted to have a legal job, but got into a position where they couldn't do anything anywhere.
"Some disappeared, some died in the war, others got imprisoned. There are some, thanks to God, who got out of it and are now working and with families."
But Harrinson Manuel, Perez's brother, was not one of the lucky ones.
Family tragedy
"My younger brother took this path and unfortunately in 2010 he died, for taking this difficult life," explained Perez.
"He was a military, first he did the military service, and he was hoping to get in the army. But he was desperate, his friends took him down the wrong path, they flattered him, said they would pay him so much for going with them, and he went.
"My mum begged him not to go. He went for a while, came back for vacations, but then returned back there. He didn't come back again.
"It was difficult, very difficult. He was my brother and my mother suffered."
This had been the second tragedy that Perez had to cope with, as the year before, in 2009, his long-term manager Manuel Garces died of cancer aged 45.
A bare-footed boxer with a desire to succeed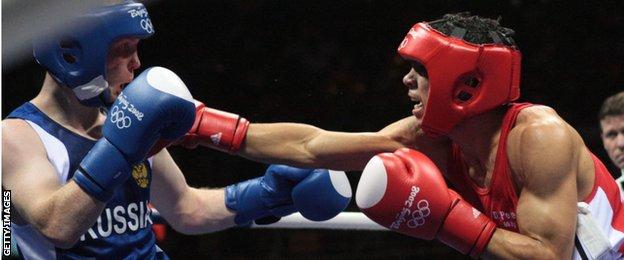 When Perez first took part in boxing he did not even have any footwear, before Garces helped him build his career.
"He helped me a lot when I started out," said Perez. "He took me on from a young age, gave me opportunities and bought me trainers and a lot of the things I needed.
"He did everything that allowed me to be in boxing. I don't know what I would be doing if I didn't have boxing."
Glory, creating a legacy and inspiring others
Perez represented Colombia in the 2008 Beijing Olympics, but missed out on a medal as he lost in the quarter-finals before he fought for the first time as a professional in February 2009.
He impressed instantly, knocking out 15 of his first 18 opponents and has now won 32 of 33 contests, with 20 victories coming inside the distance.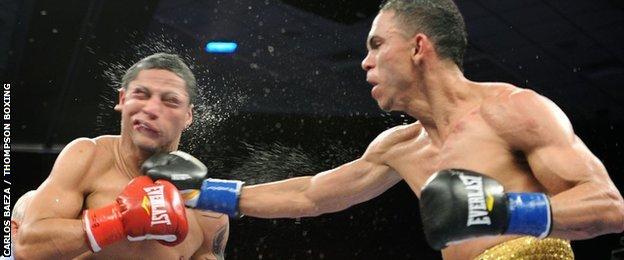 His achievements have seen him become a star in boxing and a hero to the local community, where a school has been named after him.
"When I walk the streets the people are all around me and for me that's really big," said Perez.
"I've arrived at a level I always wanted to be. I still have a long way to go but I have a belt and am defending it with a lot of honour, a lot of motivation and a lot of responsibility."
Darleys Perez was talking to BBC Sport's Azi Farni.