Anthony Ogogo 'dislocated shoulder' in win over Schelev
Last updated on .From the section Boxing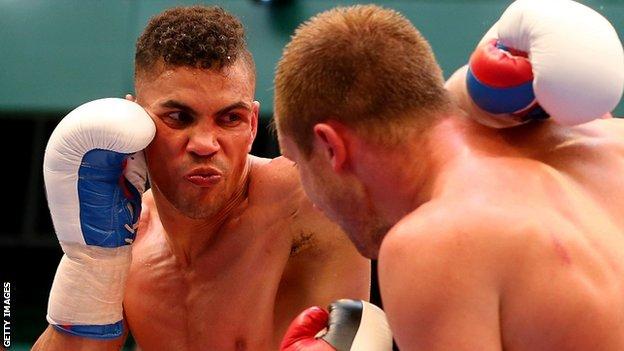 Anthony Ogogo has confirmed he twice dislocated his shoulder while beating Ukrainian Ruslan Schelev in his latest professional fight.
The 26-year-old Lowestoft-based middleweight out-pointed Schelev in Halle, Germany on Saturday.
Ogogo, who won a bronze medal at London 2012, told BBC Suffolk he had to "wiggle" the joint back into place.
"It took a lot of guts. The plus side is I beat the best guy I've faced so far with one arm," he said.
Ogogo, who is managed by 10-time champion Oscar De La Hoya, has won all eight fights since turning professional two years ago, but has also suffered a number of injury problems.
He has twice undergone surgery to relieve pain in both his Achilles tendons and also needed surgery after a previous shoulder dislocation.
"I got the win, that's the most important thing, but it was bitter-sweet because in the second round I dislocated my right shoulder," he said.
"I had to kind of wiggle to get the shoulder back in its socket, I was in a serious lot of pain.
"I tried to use it again in the third round, the same thing happened, so I had to navigate the rest of the bout with one arm."
Ogogo said he will now have a scan on the shoulder but plans to be back fighting before the end of the year.
"I'm not too down, I fought a good fight against a very good opponent and beat him with one arm, and I'm confident I'll beat this injury," he added.
"It's unlucky and frustrating, but I've gone 39 rounds as a professional boxer now and won every single one and I'll be back in no time at all."