Anthony Crolla set for Darleys Perez rematch - Eddie Hearn
Last updated on .From the section Boxing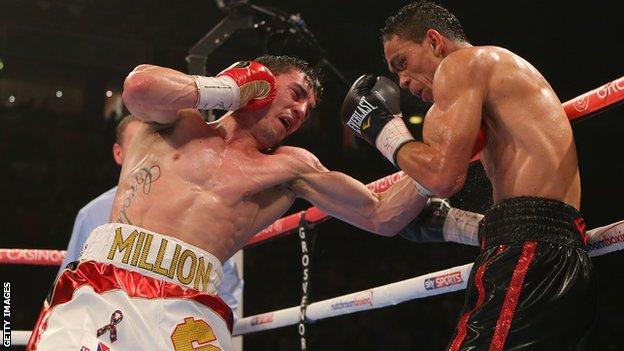 British lightweight Anthony Crolla will have a WBA title rematch with Colombia's Darleys Perez, according to promoter Eddie Hearn.
Crolla, who returned to the ring after suffering a fractured skull, said: "So grateful to have this opportunity.
"I'm sure me and Darleys Perez can put on a great fight for the title."
The 28-year-old Mancunian produced a superb performance in front a home crowd months after being attacked with a concrete slab by burglars, who were trying to break into his neighbours' house.
But he was left disappointed by the judges.
One scored it in 116-111 his favour but the other two called it even, ensuring Perez kept the title on a majority draw.
Following the controversy, WBA vice president Gilberto Jesus Mendoza ordered an official review.
"Not getting that decision was hard to take, but I was so grateful to even be part of such a great night," said Crolla.
"Now I get another chance and I'm more determined than ever."
Hearn hinted that the rematch will also take part in Manchester.
"I would like to thank the WBA for making the right decision and the public for all their support of Anthony," said Hearn.
"I hope Manchester is ready for something special.
"We are already in negotiations with Perez's team and we expect to announce the date of the rematch very soon."