Floyd Mayweather says Andre Berto 'deserves' title shot
Last updated on .From the section Boxing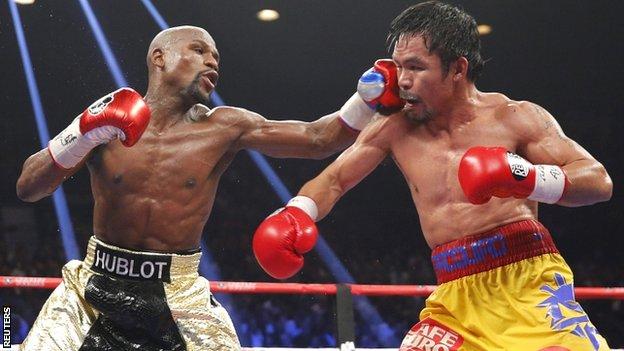 American Floyd Mayweather has defended picking Andre Berto as his opponent in what could be his last fight.
The unbeaten champion faces compatriot Berto (30-3) in Las Vegas on 12 September, and would extend his winning run to 49 fights with victory.
Berto, a 31-year-old former world champion, was a surprise choice having lost three of his past six fights.
But Mayweather, 38, told a news conference: "I chose Berto because he's very exciting."
The final match-up of a six-fight deal with broadcaster Showtime, this could be WBC and WBA welterweight champion Mayweather's final time in the ring.
Many critics accused Mayweather of picking an easy fight on which to cement his unbeaten legacy.
"Berto is a tough competitor, a former world champion. Every time he goes out he gives it 100%," said Mayweather.
"He's been given backlash. I've been given backlash. But Andre Berto is going to push Floyd Mayweather to the limit."
Berto's trainer, Virgil Hunter, also defended Mayweather's choice of opponent.
He said: "When you look at that weight division, only one stands out, the rest is opinions. Andre Berto is deserving of this opportunity."
Berto, who said he was not surprised to be chosen to fight Mayweather, was more philosophical.
He said: "We should probably have had this fight a few years back but everything happens for a reason and the time is now."
Meanwhile, Britain's George Groves will fight Sweden's Badou Jack on the undercard for the WBC super-middleweight title.
It will be the English fighter's third world title challenge, following two losses to Carl Froch.
"It will be third time lucky this time," the 27-year-old said.