Ronda Rousey: I could beat Floyd Mayweather in no-rules fight
Last updated on .From the section Boxing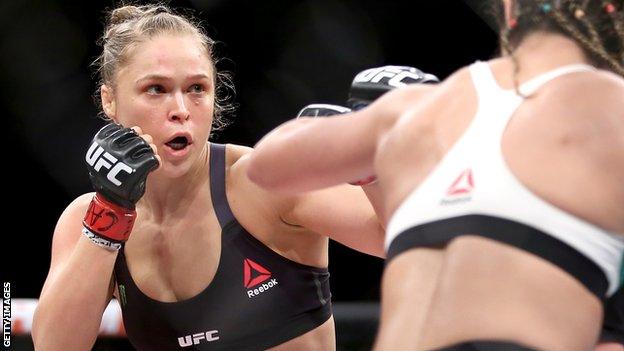 Ronda Rousey is undefeated in the world of mixed martial arts and considered by many to be the 'world's most dangerous woman'.
She also believes she could beat boxing's best pound-for-pound fighter Floyd Mayweather.
Rousey, 28, has won all of her 12 bouts - in fact all but one of them have been done and dusted in the first round.
The UFC bantamweight champion has been engaged in a war of words with five-weight boxing champion Mayweather, who claimed he had never heard of Rousey last year.
And when asked by a fan during a question and answer session on Reddit if she could take care of the 38-year-old in an anything-goes fight, she said she could beat "anyone on this planet" - including Mayweather.
"Floyd is one of the best boxers of all time. He would definitely beat me in a boxing match," she responded.
"I unfortunately don't get into 'matches'. I fight for a living. In a no-rules fight, I believe I can beat anyone on this planet.
"Boxing is a sweet science with strict rules that I respect very much and aspire every day to improve at. But you said ruleless fight, and that's my honest answer."
'I don't know who he is'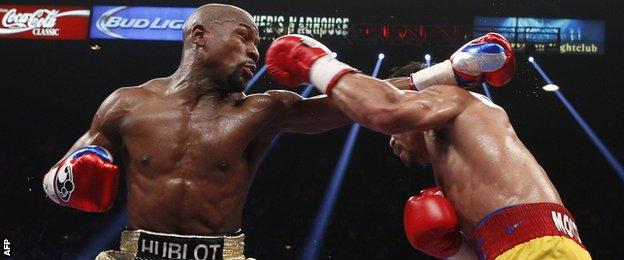 Rousey is a superstar in the USA and worldwide.
She has 1.6m followers on Twitter and, according to UFC boss Dana White, has registered six billion impressions across social media. There were almost one million mentions on Twitter of her first-round victory over Bethe Correia at the weekend.
She is also a committed campaigner for changing the conventions around female body image in the media.
But in an interview last year, Mayweather - who in 2011 pleaded guilty to assaulting his ex-girlfriend - claimed he did not know "who he is" and had to be told that in fact Rousey is a woman.
After beating Mayweather to an award for best fighter last month, she said: "I wonder how Floyd feels being beat by a woman for once. I'd like to see him pretend to not know who I am now."


Mayweather picks his top five boxers - guess who's number one
Meanwhile, Mayweather has been named the greatest boxer of all time - by himself.
"He's beaten more world champions than any other fighter, he's done it in a shorter period of time, and he's done it with less fights," he said of himself.
For the record, Roberto Duran, Pernell Whitaker and Julio Cesar Chavez also made Mayweather's list, with Muhammad Ali fifth.