Barry McGuigan likens new signing Josh Taylor to Ken Buchanan

By Phil Goodlad
BBC Scotland
Last updated on .From the section Boxing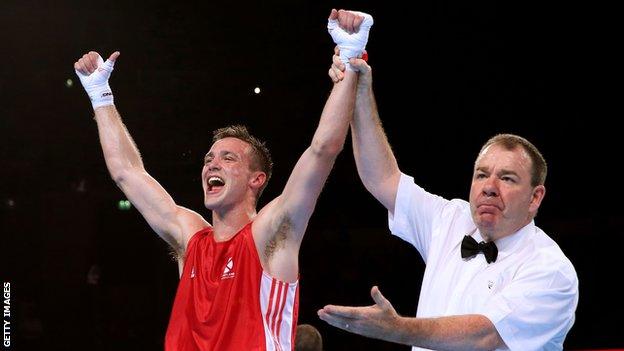 Josh Taylor has the potential to rival the achievements of Scottish great Ken Buchanan, says former WBA world featherweight champion Barry McGuigan.
Taylor, 24, is managed by McGuigan now that he has turned professional and the Irishman thinks the Prestonpans fighter has the talent to become a star.
"He really is of that ilk, Josh Taylor. We would love for him to achieve what Ken Buchanan achieved," he said.
"This is the best talent that has come out of Scotland since Buchanan."
McGuigan, whose son Shane trains Taylor in Battersea, continued: "I have no doubt about it. I have never seen anything like him.
"I watched him throughout his amateur career. For pure talent, I don't think there has been a more successful amateur for Scotland since (1956 Olympic gold medallist) Dick McTaggart.
"I don't want to be disparaging to Ricky Burns, Scott Harrison, Pat Clinton, Paul Weir, Jim Watt and the great Buchanan, but he is so naturally gifted, we call him the Tartan Tornado.
"He fights at pace, he fights aggressively and he can box. I am very excited about him. He's got the full shebang. We want to bring him back home and build his fan base there.
"He is naturally very funny and a good-looking kid and he is going to be a major draw. He is intelligent and is lovely to be around. I think he is going to have a great future."
Taylor won gold for Scotland in the 64kg category at last year's Commonwealth Games, having won silver at the Games in Delhi four years earlier.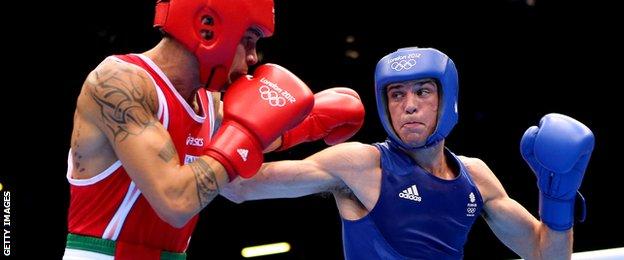 Between those, he fought for Team GB at the London Olympics in 2012 and was a member of the British elite squad for several years.
Fighting at light welterweight (140lb), Taylor's first bout in the paid ranks was against Archie Weah in Texas on 18 July.
McGuigan, in Edinburgh to announce that Taylor has signed with his Cyclone Promotions company, said: "He had his professional debut out in Old Peso on the undercard of Carl Frampton's world title fight.
"He dealt with a very stubborn journeyman and knocked him out in two rounds.
"Josh comes from Edinburgh's Lochend Club. Terry McCormack has done a wonderful job with him there.
"He has a great boxing IQ, he is tough, he can really bang and he's very exciting to watch. It is difficult not to get excited when you're around a kid like that and see the potential he has."
Another of McGuigan's sons is involved with match-making and his father revealed that the plan is for Taylor to fight "extensively in Edinburgh, Glasgow, maybe Motherwell".
"There's a huge boxing audience north of the border and we want to tap into it," he said.
"We have lots of great venues and we want the fans to come along and watch him. It all begins in October."
Buchanan, now 70 and a friend of Taylor's, won the WBA world lightweight title in 1970 by beating Ismael Laguna in Puerto Rico. A year later he added the WBC crown by defeating Ruben Navarro in Los Angeles.