Floyd Mayweather: Amir Khan and Kell Brook not suitable opponents
Last updated on .From the section Boxing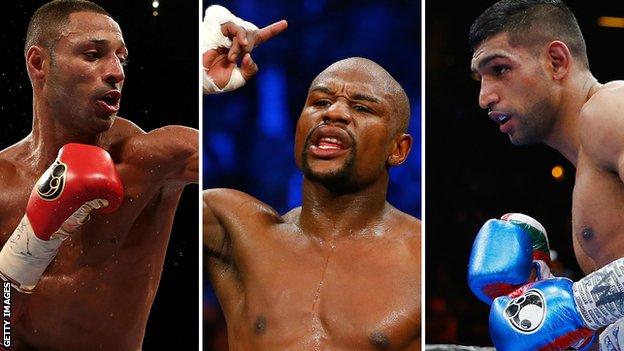 The impact of fasting and a low-profile in the US ruled British duo Amir Khan and Kell Brook out of fighting Floyd Mayweather in his next bout.
Unbeaten Mayweather, 38, meets fellow American Andre Berto, 32, on Saturday.
Stephen Espinosa, the man responsible for setting up the fight, told BBC Sport Khan would not be "at the top of his game" after fasting during Islam's holy month Ramadan which ended in July.
He added Brook is not a big enough name so Berto made "better business sense".
Mayweather is unbeaten in 48 professional bouts and can equal Rocky Marciano's record of 49-0 with victory over Berto when he defends his WBC and WBA welterweight titles at the MGM Grand in Las Vegas in what he insists will be his last fight before retiring.
Espinosa, executive vice president of broadcaster Showtime Sports, said the American had "always been dead set" on holding what has been billed as his last fight in the second week of September, leaving Bolton's two-time light-welterweight world champion Khan with too little time to prepare.
"Khan is very exciting, I like him as a fighter and I would give him a very good chance against Floyd, but it would have been a turnaround of eight weeks. Having fasted for 30 days, it wasn't going to be the top Amir Khan." he added.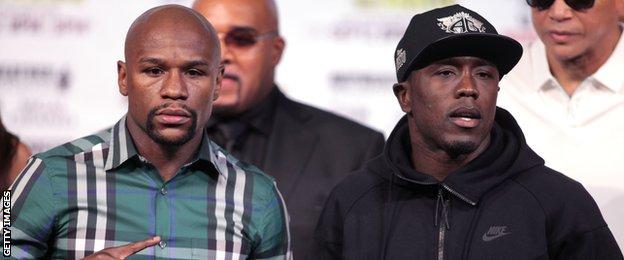 As for IBF welterweight champion Brook, 29, Espinosa said: "The question here in the United States is: What is a better business decision for the casual fan? The hardcore fans knows Kell Brook, but the mid-range fan and the casual fan probably doesn't.
"Brook has only fought once before in the United States, and there is far more name recognition with Andre Berto."
'Everybody expects Mayweather to win'
BBC Sport's Ade Adedoyin in Las Vegas: "Andre Berto is a name in the sport, he's a former world champion, but the feeling is he has passed his peak and is not really relevant at the top. He's lost three of his last six, and is considered to be more of a top 20 fighter.
"Floyd Mayweather is trying to ramp up interest but everybody expects him to win. The atmosphere is a world away from his fight with Manny Pacquiao.
"That was a huge event - it was more than a boxing match. The fight between two boxing greats had crossover appeal.
"It was always going to be a challenge to pick a fight that would generate even half those levels of interest, but they are struggling to sell tickets - a couple of days ago there were still 2,000 left."
'Berto is no pushover'
Mayweather himself defended the decision to take on Berto.
"Berto is not a pushover. He has three losses but he's a two-time world champion, just like Amir Khan," he said.
"No matter who I chose, the media was going to have something to say. He's no different from Amir Khan.
"I can't just say I'm going out 49-0. You can never overlook anyone and in this camp, did I push myself? Absolutely."
Will it really be Mayweather's last fight?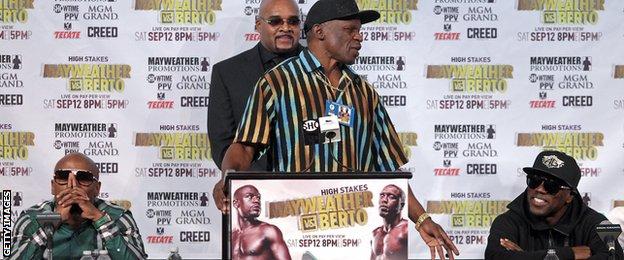 "You can make a lot of money, but you still want to be able to walk and talk. Number 49 is my last fight." To listen to Mayweather himself, it seems a certainty.
But Mayweather's father Floyd Sr does not seem so sure. He told BBC Sport it is possible his son will fight again, to go one better than Marciano.
"I want him to break the record, but if he has not done it in over a year, then leave it alone. I don't think there's time. With the 49 that's good enough to retire with," said Mayweather Sr.
"He wants to settle down and enjoy his kids. I think he might be done. But we can't tell. You can't read people's minds.
"I can see it one way with him being done and the other way not."
Could Brook fight him in the future?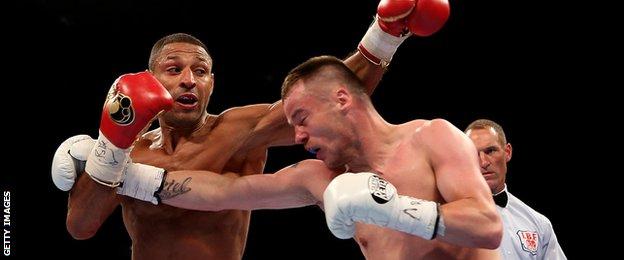 The prospect of a bout with Mayweather certainly seems to be in the Yorkshireman's thoughts, and he seems convinced Mayweather will fight on.
But first up the 29-year-old needs to successfully defend his IBF welterweight world title.
Speaking ahead of his fight with Argentine Diego Chaves in Sheffield on 24 October, Brook said: "I don't think Mayweather will retire, I think he'll carry on and try to beat Marciano's record.
"But if I was him, I wouldn't pick me as an opponent. I'd give him nightmares. I'd go in there confident I could beat him."