World Amateur Boxing Champs: Joe Joyce on Rio 2016 and art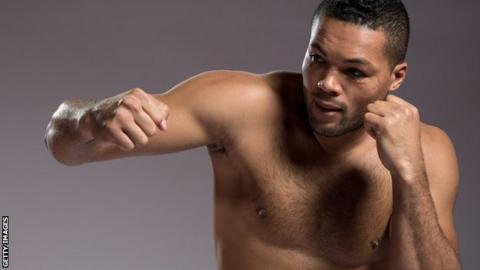 World Amateur Boxing Championships
Venue: Doha, Qatar Date: 5-15 October
Coverage: Red Button and BBC Sport website coverage from the quarter-finals on Saturday, 10 October; highlights programme on BBC One, Saturday, 17 October, 13:00 BST; reports on BBC Sport website
The boxing beat is a trip through the sublime and the ridiculous and everything in between. One day it's a fighter dressed as Batman, gleefully admitting he's a psychopath and roaring in your face; the next it's a sober chat about Picasso and Basquiat with a 17-stone super-heavyweight. What a mind-bending trip it is.
When Joe Joyce talks about his "appreciation of the old masters", he means Vermeer and Goya rather than Marciano and Dempsey. A perfect day for Joyce, who has a degree in fine art from Middlesex University, involves staring up at vast canvasses in the National Gallery. But for now, the kid's thunderous fists trump his delicate touch with a brush.
Starting this week, the 30-year-old Londoner will compete for Great Britain in the World Amateur Boxing Championships in Doha, Qatar. Win gold and Joyce will qualify for next year's Olympic Games in Rio. Not that the prospect moves him much.
In common with other fighters, Joyce is more forthcoming about his hobbies than his day job. Another good example is British heavyweight Dereck Chisora, who can be mono-syllabic on boxing, but effusive on his collection of antique parking meters. For Joyce, punching people is everyday realism, while painting is an escape into expressionism.
"My main medium is oil on canvas," says the quietly-spoken Joyce, surrounded by discarded bandages and tape in a sticky changing room. "I can use acrylics, but the problem with acrylics is they dry too quickly, so you have to work fast.
"I used to be into photo-realism - I'm a big fan of Chuck Close - but it was too painstaking, not really me. I prefer more expressionist stuff now, using thicker paint and textures. That's why I'm a fan of Basquiat, I like the chaos in his work. It looks child-like but all those swirls and scrawls are symbols and messages, there's so much meaning."
The swirls and scrawls of life are written across Joyce's face, and it's true that his route to the ring was more circuitous than most. Indeed, having only taken up boxing at the end of his second year at university, aged 22, Joyce is a fine example of the benefits of spreading yourself thin as a young man before settling on something and building up the textures.
As a boy, Joyce played rugby union, turning out for London Scottish, Rosslyn Park and Surrey in a variety of positions ranging from full-back to prop. Hoping to earn a place at the University of Cincinnati, he also dabbled in American Football before becoming "bored of chasing balls".
Joyce also hoped to compete at the Olympics in the long or triple jump, but an Achilles injury snapped that particular ambition in two. Undeterred, Joyce gave pretty much everything a go at his local athletics club - sprinting, hurdling, discus, shot put - but, while handy at most, he was savvy enough to know that he would never be a master at any of them.
Somehow, Joyce was also turning out for his local swimming club and dabbling in combat sports. First, it was the Brazilian martial art capoeira, then karate. From karate he moved onto kung-fu and kick-boxing. When he started "beating up the adults in sparring", he wondered if his fists might be his medium.
When Joyce was spotted hitting the heavy bag in his university gym a few years later, the wandering - and the wondering - came to an end.
"There was so much more to boxing than anything else I'd done," says Joyce. "I could skip, run, lift weights, hit the pads, spar. Boxing was just more fun. And my dream had always been to get to the Olympics. I had tried and failed with athletics but boxing gave me renewed belief that I would get there eventually."
Joyce won an ABA title in 2012 and, having replaced Olympic champion Anthony Joshua as Team GB's premier super-heavyweight, landed a bronze medal at the 2013 European Championships. Joyce upgraded to gold at last summer's Commonwealth Games, before winning gold again at this year's European Games in Baku. Joyce took plenty of lumps along the way, but winning all that precious metal made it bearable.
GB Boxing team for Doha
49kg (light-flyweight)
Harvey Horn (two qualify for Rio)
52kg (flyweight)
Muhammad Ali (two qualify)
56kg (bantamweight)
Qais Ashfaq (three qualify)
60kg (lightweight)
Joe Cordina (three qualify)
64kg (light-welterweight)
Pat McCormack (three qualify)
69kg (welterweight)
Josh Kelly (three qualify)
81kg (light-heavyweight)
Joshua Buatsi (two qualify)
91+kg (super-heavyweight)
Joe Joyce (one qualifies)
Having also starred in this year's World Series of Boxing - in which national teams compete in professional conditions and Joyce achieved the almost impossible by beating a Cuban in Cuba - the 6ft 5in Englishman is a good bet to negotiate the complicated qualification system and make it to Brazil. Only the super-heavyweight gold medallist in Doha will qualify for Rio, but there will be other opportunities in 2016.
"I'm not scared but winning in Doha would definitely take the pressure off," says Joyce. "There's no Russian, I've beaten the Cuban Lenier Pero and the Croatian Filip Hrgovic, who has already qualified for Rio. I haven't fought Majidov Magomedrasul, [Azerbaijan's two-time world champion] but maybe I will this time. Whoever I fight, I just have to beat them."
But should the unthinkable happen and Joyce fails to qualify for Rio, he won't be moping around for long. Promoters are already circling, while his CV includes stints as a removal man, a lifeguard, a personal trainer and a diving instructor. Sounds like a handy man to have around in a flood. He could even cheer your place up afterwards with a few of his daubings.
"It's difficult to be a career artist but I would like to do a Masters at some point," says Joyce. "Art is similar to boxing in a way, in that you're putting your style and take on the world onto a canvas. And if I get a bit more publicity through boxing, I might even be able to flog a painting or two."