Michael Conlan and Brendan Irvine into world quarter-finals in Doha
Last updated on .From the section Boxing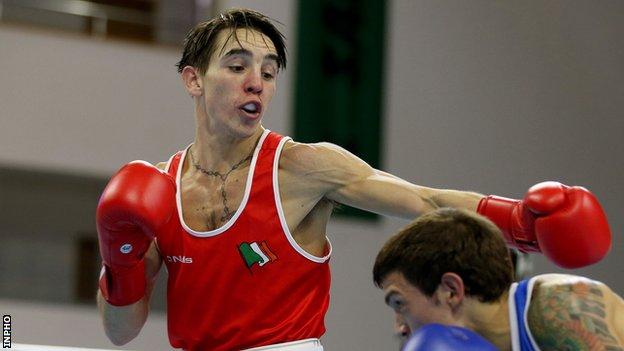 Belfastmen Michael Conlan and Brendan Irvine joined their Irish team-mate Michael O'Reilly in clinching quarter-final spots at the World Amateur Championships in Doha.
Bantamweight Conlan fought back from losing the first round against Brazil's Robenilson Vieira de Jesus to earn a majority decision.
Light-fly Irvine also earned a majority verdict against Turkey's Muhammet Unlu.
Irvine will fight Cuban number three seed Joahnys Argilagos on Saturday.
The Irish light-flyweight defeated Argilagos in a youth bout in Russia last year.
Irvine needs to progress to the final in Qatar to keep alive his hopes of qualifying for the Olympics.
Only two Rio light-flyweight spots are available in Doha although making the final wouldn't seal Irvine's Olympic qualification as Paddy Barnes has already booked his place in Brazil.
Irvine qualifying for the world final would leave the prospect of him having to fight Barnes next year in a box-off for the Olympic place.
Number three seed Conlan will fight Tayfur Aliyev of Azerbaijan in his bantamweight quarter-final on Saturday.
European champion O'Reilly earned a unanimous last-16 win over Australia's Daniel Lewis.
Belfast lightweight Sean McComb and Westmeath light-heavyweight Joe Ward are in last-16 action on Friday.
McComb meets Azerbaijan's Albert Selimov in a rematch of their European Games semi-final, which the Irishman lost.
World number five Ward has his first bout of the competition against Ukraine's world No 17 Oleksandr Kyyzhniak.