Michael Conlan through to World Championships final in Doha
Last updated on .From the section Boxing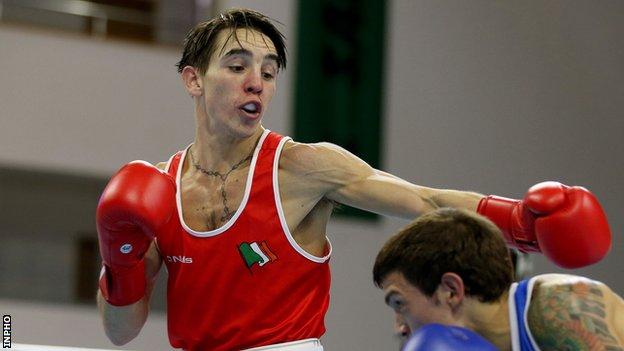 Michael Conlan has progressed to the World Championships final in Doha after defeating Belarusian Dzmitry Asanau.
The Belfast bantamweight secured a unanimous decision in Sunday's semi-final with a scorecard of 30-27, 29-28 and 29-28.
European champion Conlan, 23, has already qualified for the 2016 Rio Olympics.
Ireland's other two remaining hopefuls, Michael O'Reilly and Joe Ward, will also fight in the semi-finals.
Belfast light flyweight Brendan Irvine lost his quarter-final to Joahnys Argilagos on Saturday.
Irvine fought well but had no answer to his Cuban opponent's tight defence and scoring punches.
The Belfast fighter lost each round 10-9, though one judge did award him the final round as he battled hard against elimination one fight before the medal bouts.