Billy Walsh denies money row led to his departure from Irish job
Last updated on .From the section Boxing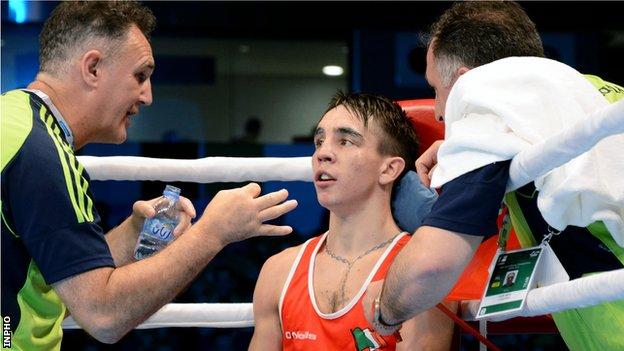 Billy Walsh has strongly denied suggestions that money was the main reason for his resignation as Irish amateur boxing's head coach.
On Friday, the IABA claimed that "remuneration matters" were at the centre of the dispute.
However, Walsh vehemently rejected this suggestion in a statement on Saturday.
"The IABA has clearly implied that I have left because of money and that a contract was agreed on 14 September. This is simply incorrect," insisted Walsh in a statement.
Walsh set to take role with US Women's team
Wexford man Walsh stepped down from the Ireland role last Monday and is now set to accept a role with the US women's boxing team.
"For ultimate clarity, I want it on the record that I did not resign from the IABA because of money.
"Of course I wanted better financial terms. However, it was the non-financial and practical working terms that were the deciding factor in my decision to resign."
Walsh's lengthy statement went on claim that the terms of the new contract offer "consistently undermined my role and my authority at every turn".
"The new fixed term contract gave me very few legal protections and prevented me from having any contact with the Irish Sports Council or the Olympic Council of Ireland for example.
"These are key stakeholders that I need to deal with on a regular basis due to the nature of my role and the work of the programme.
"I was prevented from having contact with the ISC or OCI without prior written permission of the CEO. This stipulation also included any contact with the media.
"I was given absolutely no autonomy in the new contract and this was clearly aimed to undermine my position and would have made my job extremely difficult to do if not impossible to do.
"At this juncture, I was also under significant time pressure to sign or not sign a contract offer with USA Boxing, who had been waiting for months, which I made the IABA aware of."
Walsh's statement went on to say that his legal advisor identified "60 changes that were required to make this a fair and acceptable contract document".
"We submitted these changes through my solicitor to the IABA solicitor on 21 September.
"Despite two reminders from my solicitor to the IABA solicitor that we were looking for a swift response, no response came from the IABA until 8 October. It seemed they were deliberately dragging this out."
Walsh left with 'no alternative but to resign'
Walsh said that the IABA's response effectively "rejected all the proposed amendments which I had outlined".
"The IABA had merely agreed to a few stylistic changes and one or two elements of limited substance.
"I was further advised that the IABA appeared to be resistant to any change to the contract save that in relation to remuneration and even at that, they appeared to be reneging on what I understood to be the minimum bonus.
"The IABA could not have been shocked or surprised that I resigned given their disrespectful response and blatant disregard for my required changes to the proposed contract.
"What I was offered was unworkable and aimed at forcing me to resign.
"I firmly believe that they had no intention or desire to engage me into the future. I was left with no alternative but to resign."