Wladimir Klitschko: Tyson Fury comments make me sick
By Ben Dirs
BBC Sport in Going, Austria
Last updated on .From the section Boxing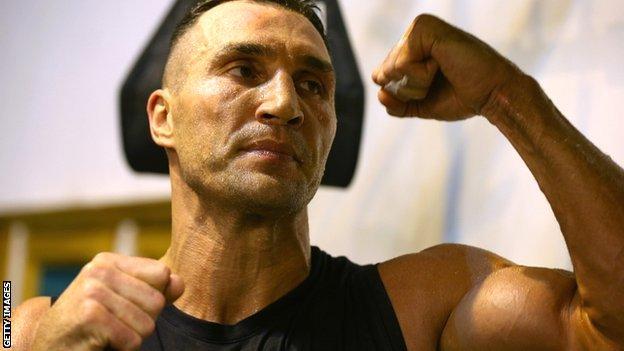 Wladimir Klitschko said Tyson Fury "has a brain the size of a squirrel's" in the build-up to their heavyweight world title fight in Germany on 28 November.
Klitschko, who will defend his WBA, IBF and WBO titles, was responding to remarks made by his British challenger.
In an interview with the Mail on Sunday, Fury expressed strong views against abortion and homosexuality and called Klitschko a "devil worshipper".
"His comments make me sick," said Ukraine's Klitschko, 39.
"They were disgusting and had nothing to do with the promotion. They just showed the true insides of Tyson Fury - he is unhappy."
Klitschko said it was "not smart" and "not good" for Fury to comment as he had.
"We live, thank God, in a democratic world and people have a right to an opinion," he added. "But people need to respect each other.
"As for calling me a devil-worshipper [for liking magic tricks], that's just stupid. When Tyson Fury starts working in the circus, he'll be working with some amazing magicians.
"And if he still believes it's magic, well, between you and me, it's not magic at all but just tricks. But I will do some magic on Tyson Fury in Dusseldorf - I'll knock him out and make him disappear from boxing."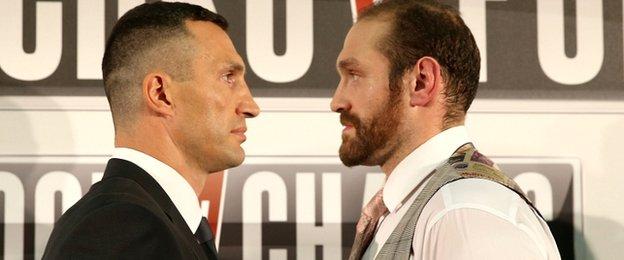 Klitschko was talking at his training camp in the Austrian Alps, where he is preparing for his 28th world title fight and 24th world title defence, one short of the legendary Joe Louis.
Klitschko, who has 64 wins from 67 professional fights, also responded to claims he was scared to spar with Fury at a previous training camp.
"I just remember this extraordinarily big man suddenly appearing in my gym," said Klitschko, who has not been beaten since 2004.
"But he was way too young and raw and Emanuel [Steward, Klitschko's former trainer who died in 2012] was protecting him.
"It was my training camp and in my training camps, I'm the chief executive. I could have mentally and physically damaged him."
The last time Klitschko came face to face with Fury, the unbeaten Manchester boxer dressed as Batman and proclaimed himself to be "a psychopath".
But the champion claimed he had seen it all before with Fury's fellow Briton David Haye, whom Klitschko dominated when they boxed in 2011.
"For a long time now I have been observing opponents getting under their own skin," said Klitschko, whose older brother Vitali was also a heavyweight world champion before he retired and entered politics in 2012.
"It was the case with David Haye but I'm a very good therapist and I made him a better person - he carries himself a lot better since I beat him.
"Chaos means emotions and emotions are a downside in boxing. Tyson Fury is digging himself deeper and deeper. That's good for me."
Klitschko also said that Britain's Olympic super-heavyweight champion Anthony Joshua, who has 14 knockouts from 14 pro fights, would beat Fury if they met.