Tyson Fury's behaviour makes Anthony Joshua a saint in waiting
Last updated on .From the section Boxing
Anthony Joshua v Dillian Whyte
Venue:
O2 Arena, London
Date:
Saturday, 12 December
Coverage:
Live commentary of undercard on BBC Radio 5 live sports extra from 20:30 GMT; BBC Radio 5 live from 22:30 GMT; & BBC Sport website
The petition to have Tyson Fury struck from the Sports Personality of the Year shortlist will soon have as many signatories as the petition against the UK bombing Syria. For some, it is numerical evidence of Fury's wickedness. For others, it is alarming evidence that people should get their priorities straight.
For Anthony Joshua, the anti-Fury petition is akin to a slot machine. For Fury, too. Just imagine a dollar sign in front of that number spinning ever upwards.
Whether you think Fury is entitled to speak his mind or not, it is abundantly clear he doesn't care what anybody thinks. And so he will become more and more cartoonishly wicked, making Joshua more and more angelic by comparison. Black hat, white hat, what boxing thrives on.
And when Fury and Joshua finally meet in the ring, the machine will bear bountiful fruit. HOLD THE BELLS! JACKPOT! KA-CHING!
At his gym in the Essex countryside, Joshua pounds the heavy bag so hard you fear the ceiling will fall in. He has shoulders you could set a meal for five on, fists the size of boulders. But once his work is done, it's his smile that dominates.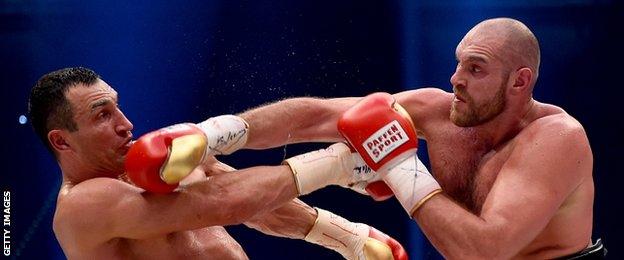 "I don't know about being the saviour of heavyweight boxing," says the reigning Olympic champion, who fights Dillian Whyte for the vacant British heavyweight title in London on Saturday. "And I'd never put myself forward as a role model. But if that's a tag people want to put on me, so be it.
"I've got a lot of young kids following me on social media, so being a good person is important. Telling the old lady in the gym how great she looks, which might make her day; working with the homeless in the gym at Christmas, feeding people, doing something heartfelt, instead of stuff that boosts my ego.
"When you're working so hard to become successful, which is often determined by big houses, fast cars and loads of money, it's easy to forget the little things that matter. It's easy to forget what being a good person is actually all about."
Whyte thinks Joshua is a "scumbag and a fake". Although this being boxing, maybe he doesn't. But he has his reasons. Joshua, with 14 straight knockouts to his name since turning professional in 2013, is a bubbling cauldron. Throw in some spices, stir things up, make things spit and the flavour increases.
Whyte beat Joshua when they met as amateurs in 2009 and believes he left mental scars. If he did, Joshua hides them well. Watching the fight back, Joshua, now 26, seems to find his younger self hilarious.
Head to head

Anthony Joshua

Name

Dillian Whyte

Watford, England, 15 October 1989

Born

Port Antonio, Jamaica, 11 April 1988

5 October 2013

Turned pro

13 May 2011

14 fights, 14 wins (14 KOs)

Pro record

16 fights, 16 wins (13 KOs)

Orthodox

Stance

Orthodox

6ft 6in

Height

6ft 4in
In front of 30 or 40 spectators in an Essex working men's club, Joshua is spent after barely a minute, reduced to a whirling mess and sent sprawling to the canvas. These are not the skills that won him Olympic gold in London.
"I'd been learning my craft for about six months when I fought Dillian," says Joshua. "My coach called me one Thursday and said: 'How do you feel about boxing tomorrow night?' We boxed and we had an unbelievable fight.
"But we weren't on the battlefield. It wasn't World War II. It was just a little amateur fight. If I'd lost, become depressed and quit boxing, then he would have one up on me. But he showed me what the amateur game was about and inspired me to knuckle down. It just made me stronger than I already was."
The gangly kid from Watford, who only took up boxing at 18, learned fast and learned well. Meanwhile, Whyte's amateur career petered out because the authorities were uneasy about his extensive kickboxing experience.
Having reeled off nine straight wins in the paid boxing ranks, Whyte was handed a two-year ban after testing positive for a banned stimulant in 2012. Hostile and chippy, it is easy to paint him as the bad guy. But Joshua's story - not to mention Fury's - is a reminder that human nature is nuanced.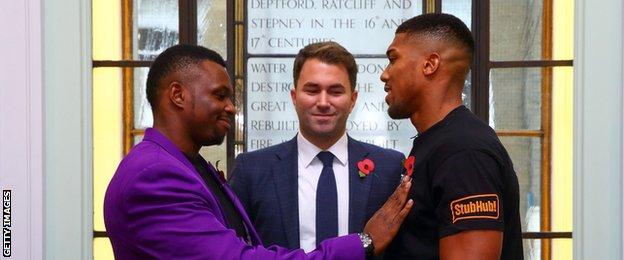 Also in 2011, Joshua was arrested for possession of cannabis with intent to supply and sentenced to a 12-month community order and 100 hours' unpaid work. For all Fury's troubling outbursts, his only police rap is for speeding.
The key difference between Fury and Joshua is that while the former is not for turning, despite the mounting criticism and the spinning numbers on that petition, the latter appears thoroughly chastened and completely transformed.
"As you go through life and experience different things, you begin to understand what's important," says Joshua. "Time is running out, we're not here forever. But I've learned stuff, done something positive. Tyson Fury is a good boxer but he needs to read some books and educate himself a bit more."
But being book-smart is no substitute for a solid jab and a mean left hook, at least not in boxing. And with 13 knockouts from 16 pro victories, the 27-year-old Whyte should be a step up in class from Joshua's previous victims and might even ruffle Joshua's whiskers.
Not that Joshua, who has yet to be taken past three rounds, seems enamoured with the idea of being tested. "People talk about me not having had enough rounds," says Joshua. "But I don't want to go the rounds! That's not what I'm here to do. I'm here to be devastating, steamroll everything that gets in my way. Boom! Who's next? Boom! Who's next?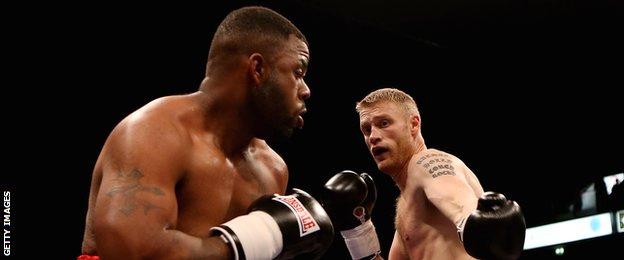 "I could step up to world level now. But I've got to listen to my team and they're saying to me: 'Josh, let's do it the proper way.' I haven't been tested physically yet [in an actual fight]. But in the gym I've been tested time and again. You learn in the dark corners, so that under the bright lights you shine.
"It can be frustrating because I want to show the world what I'm capable of. I've got a lot of people rooting for me and I want to show them I'm that guy. I don't think I'm there yet. But 18 months from now, I'll be more than ready."
Critics of any heavyweight prospect are legion. But the primary reason talented heavyweights leave so many observers so frustrated is because there are so few fellow big men out there. The exhaustive statistics website BoxRec lists only 1,196 active heavyweights. Richard Dawson, who fought former England cricketer Andrew Flintoff a few years ago, is currently 343rd in its rankings.
In addition, Joshua's victims include former world title challenger Kevin Johnson, who took both Vitali Klitschko and Fury the distance, and two former British champions (albeit ancient ones) in Michael Sprott and Matt Skelton.
That said, Joshua is ranked second, third, eighth and 13th by the four main governing bodies. And if he is to be ready for a world title shot in the summer of 2017, he will have to start boxing some fellow contenders soon.
If - and it is still an 'if' - Joshua sees off Whyte, his next opponent could be fellow Briton and former world title contender Dereck Chisora, who fights on the same O2 bill on Saturday. David Haye, who makes his comeback in January after a three-year lay-off, is another intriguing ingredient in a thickening soup.
If - and it too is still an 'if' - Joshua keeps on winning and Fury is still a world heavyweight champion by the summer of 2017, that soup will be so thick you'll barely be able to see the ring. The signatories to that petition will have helped make Fury and Joshua rich beyond their wildest dreams. Their only consolation might be if Joshua slaps Fury up good.