David Haye: Comeback v Mark de Mori 'won't be a hard-luck story'
Last updated on .From the section Boxing
David Haye v Mark de Mori
Venue:
O2 Arena
Date
: 16 January
Time
: From 22:00 GMT
Coverage:
Live text commentary on the BBC Sport website
They come back for the glory. Always for the glory. Not because they're skint or rattling around a big old house, putting out the bins and bringing in the milk.
David Haye knows the history and is braced for the suspicion. "Boxing is littered with hard-luck stories," Haye, 35, tells BBC Sport. "I've looked at plenty of boxers in the past and thought: 'Why is this guy coming back?'"
Haye comes back on Saturday, after three and a half years away. His opponent, Australian Mark de Mori, might reap a whirlwind of frustration or expose Haye's folly. Far more likely, it will be something in between - Haye has a lot of rust to shift but De Mori, for all his muscles, is a fighter from the fringes.
The great Roy Jones never came back, but only because he never went away. More's the pity. On a sad day last December, a 46-year-old Jones - or at least it looked a bit like him - was reduced to a dusting pile of rubble by Welshman Enzo Maccarinelli, whom Haye took care of in two rounds way back in 2008.
Within days, Jones - who many believe to be the greatest fighter of the modern era - had vowed to engage in more fights in Russia, where the demolition took place and where he is now a citizen. The rubble had been put back together, but the dust remained. Faded grandeur doesn't even begin to describe the state that Jones is in.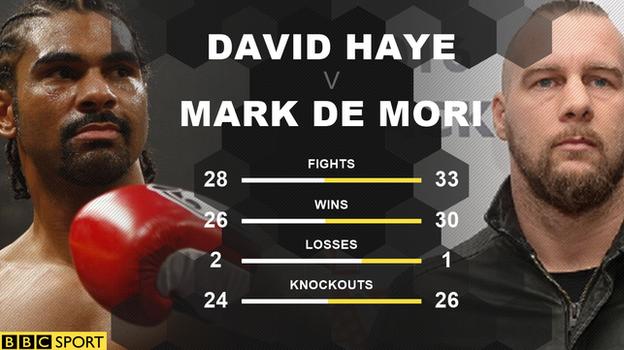 Haye took notes but focused on the differences. "Roy Jones is my hero, one of the greatest fighters of all time," says Haye, a former cruiserweight and heavyweight world champion who has fought only four times in the past six years.
"He's still got that determination and drive but he's in his mid-40s, he's got no business being in the ring with young, hungry fighters. It's a shame when fighters take it too far. But I haven't taken a beating for 12 years [since he was stopped by Carl Thompson]. I'm still fresh as a daisy.
"From the age of 10 I said I was going to retire when I was 30 and before my 31st birthday I had the big unification fight with Wladimir Klitschko [in 2011].
"If I'd won that, it would have been a full house - unified cruiserweight and heavyweight world champion - and I probably would have retired. But things didn't turn out that way and there was a little, nagging doubt at the back of my mind."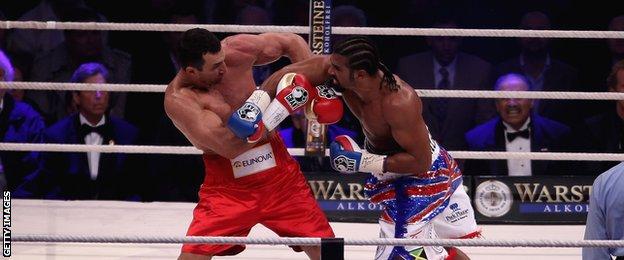 That little nagging doubt led Haye to British rival Dereck Chisora, who he knocked out in 2012. After which, his body packed up on him. Two scheduled fights against now heavyweight world champion Tyson Fury were nixed by injury, before major shoulder surgery brought Haye's career to a juddering halt.
But that's the thing about nagging doubts - or nagging anythings - they never stop nagging. Especially in boxing, in which road maps are like riddles, signposts spin so fast they make you dizzy and careers can pan out in a thousand different ways. What if I'd taken that route instead?
"I want an opportunity to do what I didn't quite get the chance to do last time, which is to unify all the heavyweight belts," says Haye, who will have Shane McGuigan, trainer of IBF super-bantamweight Carl Frampton, in his corner against De Mori, having parted company with long-time mentor Adam Booth.
"It's been very frustrating sitting on the sidelines. I always had that burning desire to regain the heavyweight championship of the world. I've got a lot more to give."
Haye has admitted he endured dark times in the wilderness. And when the black dog starts howling, signposts stop spinning and options seem limited. But he is withering when reminded of Fury's suggestion that he has frittered away his millions.
"I don't know where he's getting that from," says Haye, who earned a reported £10m for fighting Klitschko. "Financially, I can afford to lose. But within myself, I can't. Boxing is not a financial thing for me. It's about people remembering me in 100 years time.
"At cruiserweight, I'm happy with my legacy. As a heavyweight, I beat the biggest world champion in history [7ft Russian Nikolay Valuev, whom he defeated to claim the WBA belt in 2009]. I defended the title twice but lost to Wladimir Klitschko trying to unify the belts. Not great. I couldn't keep the momentum going. I want to get that momentum back again.
"There are so many different routes I could go down. I've just turned 35, believe I can fight three times a year and that it would take no more than three or four fights to be in a mandatory position with one of the main governing bodies. I'm a former world champion, so won't have to take the same route as a young heavyweight prospect. I can be fast-tracked, take the fights that matter."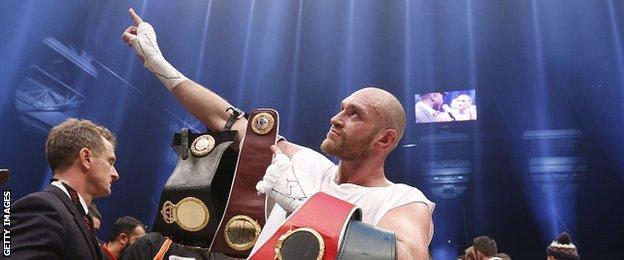 One fight that won't be happening any time soon is Haye versus Fury. Fury, who dethroned Klitschko in shocking fashion in November, is still smarting from Haye's two withdrawals and has vowed never to give him a pay-day. The Manchester boxer, who remains the WBA and WBO champion after the IBF stripped him, even said he would vacate a title if Haye ever became a mandatory challenger.
But Haye knows the impossible in boxing often happens. Impress against De Mori, and keep on impressing, and Fury might relent. Although Fury has to negotiate a rematch against Klitschko first. If Klitschko beats Fury this summer, Haye - whether Klitschko retires or not - will suddenly have plenty to shoot at. If Fury wins, money will start roaring in his ears.
Also on Saturday, Ukrainian Vyacheslav Glazkov fights American Charles Martin for the vacant IBF belt - neither of whom will scare Haye much - and WBC champion Deontay Wilder takes on Poland's Artur Szpilka, whose past three fights have been eight-rounders and who has never contested a 12-round bout.
All the while, Haye's fellow Londoner Anthony Joshua is hacking down bigger and bigger trees and will soon reach heavy jungle, where the big boys are swinging their axes. Win a couple of fights in style, and Haye will join him.
"Just winning against De Mori isn't enough, I've got to win, look good and send shockwaves around the world," says Haye, who raised eyebrows and no doubt the odd chuckle when he announced he was making his return on terrestrial channel Dave - 'the home of witty banter', not top-class boxing - rather than a subscription channel such as Sky Sports.
"I watch Fury, Klitschko, Joshua, Wilder and I don't think any of them are better than me. I bring something serious. It would have been nicer if there was just one person who had all the belts. But I'll have to do it slowly and surely instead, have a nice run to get people excited and pick up all the belts."
Put like that, it sounds so simple. Like putting out the bins and bringing in the milk. But unlike in boxing, there are no thrills in bins and milk.