Nick Blackwell relishing Chris Eubank Jr contest in Kent
Last updated on .From the section Boxing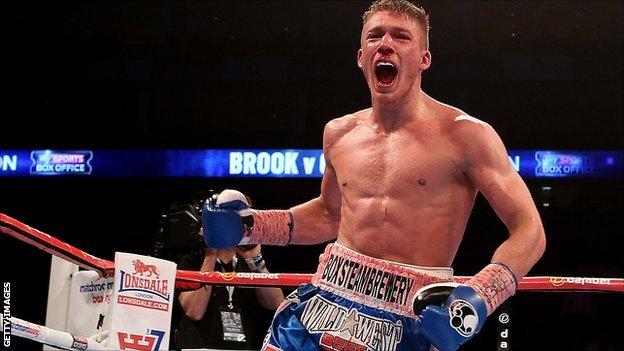 British middleweight champion Nick "Bang Bang" Blackwell says he is relishing his title defence against Chris Eubank Jr in Kent on 5 March.
Wiltshire's Blackwell, 23, is confident of defeating Eubank Jr at Bluewater when the pair finally get to meet.
And Blackwell, who has lost three of his 23 fights, says he is delighted that the match has now been confirmed.
"The fight has meant to happen three or four times but it hasn't materialised," Blackwell told BBC Wiltshire.
After winning the British title in 2015, Blackwell says Eubank Jr is in for a tough night.
"I stayed right over Christmas," he said. "I'm fit and ready now and there is still seven weeks to go so it's going to be a good one.
"He knows it's going to be a tough fight. It's a tough fight for little reward. for him. I'm confident I'm going to win.
"On paper, I'm the underdog but I know I've got everything needed to beat him. I just know I'm going to win this fight."