Frank Bruno: Eddie Hearn says ring return would be travesty
By Nate Williams
BBC Sport
Last updated on .From the section Boxing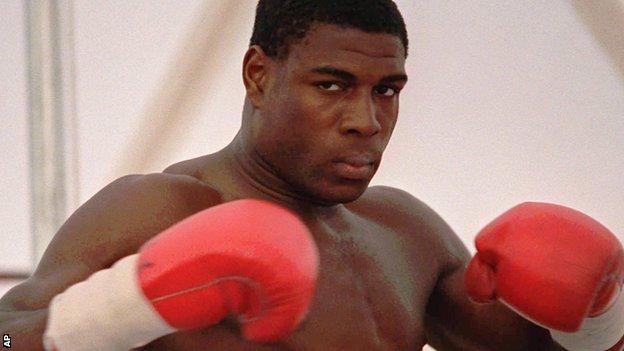 Frank Bruno returning to boxing at the age of 54 would be a "travesty", says promoter Eddie Hearn.
Former world heavyweight champion Bruno says he would like to box again, but has battled with bipolar disorder since he was diagnosed in 2003.
David Haye, who is also a former heavyweight champion, says Bruno would need to face boxers of a similar age.
But Hearn said: "Frank is a national institution. He needs help and support, but not through returning to boxing."
Bruno, who has not fought since losing the WBC belt to Mike Tyson in 1996, said on Monday he wanted to return to the ring, but had been denied a licence by British boxing officials.
"He won the heavyweight world title. It would be a travesty to see him back in the ring," said Hearn.
"It's not the answer but I fully understand all the things that boxing can give him, and I hope he can find that through being involved in the sport, whether it's coaching, whether it's being an ambassador because he trains all the time and that's because he feels he needs to."
A look back at Bruno's career

Date

Fight

17th March 1982

Wins his first professional fight against

Lupe Guerra

13th May 1984

After 21 consecutive wins, Bruno loses his first match to

James Smith

1st October 1985

Knockout victory over

Anders Eklund

gives Bruno the EBU heavyweight title

19th July 1986

Loses to

Tim Witherspoon

and misses out on the WBA World heavyweight title

25th February 1989

Loses to

Mike Tyson

by a fifth-round knockout to miss out on WBC, WBA, IBF World heavyweight title

1st October 1993

Loses to

Lennox Lewis

in a fight for the WBC World heavyweight title

2nd September 1995

Wins the WBC World heavyweight title, beating

Oliver McCall

16th March 1996

Loses the WBC World heavyweight title to

Mike Tyson
Total Record:
Won:

45

Lost:

5

Drawn:

0

Rounds:

170

Knockouts:

84%
Fellow Briton Haye does not feel Bruno should meet boxers in their 20s or 30s.
"As long as he fights somebody his own age, I've got no problem with that," Haye, 35, told Radio 4's Today programme.
Haye made a comeback of his own in January, taking 131 seconds to win his first fight in three-and-a-half years.
He added that Bruno was in "fantastic shape" but added there should be a seniors division in boxing, as there is in tennis.
Promoter Kellie Maloney said Bruno should not risk his health and instead channel his energy into other things, like training up-and-coming boxers.
"He's got a lot of knowledge and he could pass that on to the young fighters," said Maloney. "There's so much more out there for him."