Boxing: Stephanie Kernachan dreams of Commonwealth Games gold

By Geoff Webster
BBC Scotland
Last updated on .From the section Boxing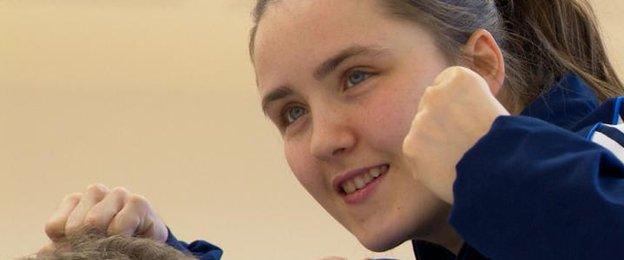 Forget conferences populated with motivational speakers who quote from manuals on "self-improvement" and how to make the most of your talents.
If you really want to know how to get off your backside and be the best that you can, then just spend a few minutes in the company of Stephanie Kernachan.
By her own admission, she was a shy girl lacking in conversation and confidence.
Now - through her sport of boxing - this down-to-earth and refreshingly honest 23-year-old is "transformed" with a self-belief that she hopes will lead to a gold medal at the Commonwealth Games on Australia's Gold Coast in 2018.
We meet in a boxing gym just off Bridgeton Cross in Glasgow's East End following the news that she - and 31 other Scottish athletes - will receive funding of £12,000 over the next two years as part of sportscotland's Athlete Personal Awards.
Others on the list include runner Steph Twell, bowler Alex Marshall and shooter Jen McIntosh. There are others who hope to make it to the Winter Olympics in Pyeongchang in South Korea in two years time.
But Stephanie can't afford to let boxing dominate her life. Far from it; first of all she has to earn a living and she does that as a Residential Care Worker.
"I work with kids aged between 11 and 16 with challenging behaviour," she tells me. "It's about being there for them, providing care for them.
"I tell them that if you really want to do something with your life - if you want to aim for something - you can get it.
"I can take my pads in and let the boys have a shot at boxing. They ask me how I'm getting on and when my next fight is? If they want to go to college our university, they see me as a bit of role model."
As the only Scottish women boxer to win a British title, Stephanie has come a long way, not only in her chosen sport, but also in her personal life.
"I never believed in myself," she explains. "I was really shy, I couldn't have conversations with people and I wasn't confident. At 15, I took up boxing and I've transformed - I'm more confident and have self-belief."
Now, she's on a personal and sporting journey that will, hopefully, end up in a boxing ring in Australia with her wearing the Scotland top on her way to a gold medal.
"You need to believe you can do it," she says. "There's no point in just turning up at the Commonwealth Games - you've got to think you're going to the Commonwealth Games and you're going to win the gold."
Financial support will always be part of the jigsaw that helps an athlete along the way but when it comes to acquiring the personal qualities to enable you to reach the top, Stephanie has that certain something that money can't buy.