Anthony Joshua: 'Tyson Fury can train with me'
Last updated on .From the section Boxing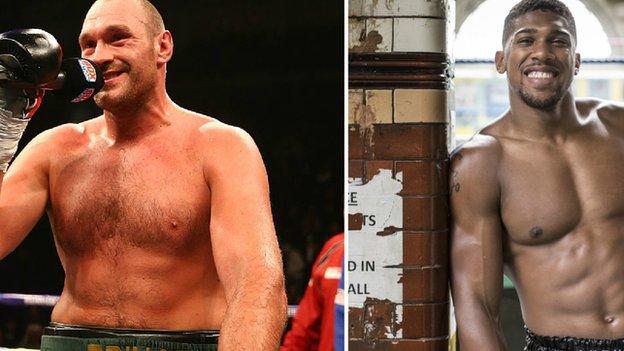 Anthony Joshua says Tyson Fury is jealous of his physique and has offered his heavyweight rival help in training.
WBA and WBO champion Fury called fellow Briton Joshua, 26, "useless" and said boxing was not just about "bodybuilding".
Fury predicted Joshua would be "knocked out" by defending champion Charles Martin on Saturday, when they fight for the IBF title Fury was stripped of.
"They're hating on my beach body," said Olympic champion Joshua.
"If they want, I'll give them some sessions. They can come train with me."
Fury responded to Joshua on Twitter, saying: "Jealous of a weightlifter who is fighting for a paper title lol u help me!!! Lol ok need a gym doorman."
Joshua replied "keep praying for my downfall fat boy", saying he would see his fellow Briton soon.
But Fury replied: "I hope u win, as u will make me a lot of money, for an easy fight."
Joshua overcame Dillian Whyte with a seventh-round stoppage in his last fight to claim the British heavyweight title.
The bout against American Martin, who beat Vyacheslav Glazkov for the vacant IBF belt in January, will be his 16th fight as a professional. He has won by knockout in the first 15.
Fury was stripped of the IBF title in December after he opted for a rematch against Wladimir Klitschko, rather than face mandatory challenger Glazkov.
Joshua added: "This is just how I am. There's a lot of jealousy, a lot of negativity, so that's why I shut it down and just focus on myself.
"I don't search for their attention. I'm not worried if he backs me or not, because I'll still handle my business. He's not supposed to back me realistically, so I expect no different."